Energy Metering IC includes embedded Flash memory.
Press Release Summary: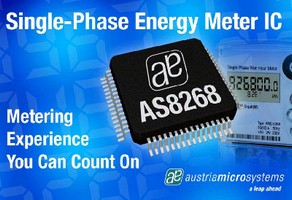 Offering system-on-chip solution for LCD meters, Model AS8268 provides secure program and data through Flash memory. It fulfills utility anti-tamper requirements and accommodates customer-specified LCD display. Device incorporates all functional blocks for single-phase metering, including precision energy measurement front-end, 8-bit microcontroller, 32 kBytes Flash memory, real-time clock, 96-segment LCD driver, 12 programmable multi-purpose I/O, and on-chip temperature sensor.
---
Original Press Release:

austriamicrosystems Introduces New Single Phase, Anti-tamper LCD Energy Metering IC Offering Secure Program and Data with High Reliability



AS8268 system-on-chip with embedded Flash memory requires minimum of external components

Unterpremstaetten, Austria (April 19, 2007) - austriamicrosystems (SWX: AMS), a leading global designer and manufacturer of analog integrated circuits (ICs) for communications, industrial, medical and automotive applications, announces the latest addition to its energy metering IC family with the launch of the AS8268 singlephase
system-on-chip metering IC with embedded Flash memory. The AS8268 offers an integrated system-onchip solution for LCD meters and provides for secure program and data through its on-chip high-performance Flash memory.

The AS8268 also fulfills all utility anti-tamper requirements and accommodates a customer-specified LCD display.

Meter implementations based on AS8268 require a minimum of external components, inherently improving meter reliability and reduced meter system cost.

The AS8268 incorporates all the required functional blocks for single-phase metering including a precision energy measurement front-end, an 8-bit microcontroller, 32kBytes of on-chip Flash memory, a real-time clock, 96-segment liquid crystal display (LCD) driver, 12 programmable multi-purpose inputs/outputs for all possible customer-specified interfaces and display requirements, as well as an on-chip temperature sensor.

"The extremely reliable austriamicrosystems Flash memory technology provided on-chip ensures program and data retention performance never before available to the metering industry in system-on-chip ICs" says Matjaz Novak, Marketing Director Industry & Medical at austriamicrosystems. "Furthermore, the Flash memory has been designed and verified to operate over an extended operating temperature range of -40ºC to +125ºC".

"The outstanding accuracy performance of the AS8268 measurement front-end is demonstrated by the consistent repeatability of measurements provided by the device" adds Dave Simpson, Applications Manager Metering Products at austriamicrosystems. "This consistency in measurement is provided by austriamicrosystems' industry-proven analog front-end technology, designed and manufactured to meet even the most stringent utility requirements".

The AS8268 offers the option of using an external EEPROM of 2 to 32kBytes for data retention, in conjunction with the fully programmable industry standard 8-bit 8051 compatible microcontroller (MCU) and 32kBytes on-chip Flash memory. Two universal asynchronous receiver transmitters (UARTs) provide for external communication. A
programmable energy LED pulse output can be displayed through one of the multi-purpose input/outputs. This precision output along with an on-chip pulse counter allows for the option of fast automatic digital calibration. An on-chip ±1.4ppm real-time clock/calendar (RTC) with two alarm registers and battery back-up is available for
complex tariff applications, with the option of added precision through the on-chip temperature sensor.

Active energy, MAINS voltage and MAINS current is calculated directly within the on-chip digital signal processor (DSP). Reactive power and apparent power can also be calculated by user configurable application software.

The AS8268 is available in a LQFP-64 pin package and is pin-compatible with the currently available AS8218 and AS8228.

Samples of the AS8268 will be available later in Q2 2007.

About austriamicrosystems
austriamicrosystems is a leading designer and manufacturer of high performance analog ICs, combining more than 25 years of analog design capabilities and system know-how with its own state-of-the-art manufacturing and test facilities. austriamicrosystems leverages its expertise in low power and high accuracy to provide industryleading
customized and standard analog products. Operating worldwide with more than 1,000 employees, austriamicrosystems focuses on the areas of power management, sensors & sensor interfaces, portable audio and car access in its markets Communications, Industry & Medical and Automotive, complemented by its Full Service Foundry activities. austriamicrosystems is listed on the SWX Swiss Exchange in Zurich (ticker symbol: AMS). For more information, please visit the web site at www.austriamicrosystems.com.

Electronic picture and block diagram are available on request or at
http://austriamicrosystems.com/07presscenter/presscenter_start.htm

For further information:
Technical Contact
austriamicrosystems AG
Dave Simpson
Tel: +27 41 581 8401
Fax: +27 41 581 5325
dave.simpson@austriamicrosystems.com
www.austriamicrosystems.com

More from Electronic Components & Devices