Energy Measurement IC adapts to various meter designs.
Press Release Summary: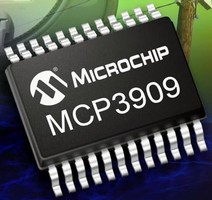 Supplied in 24-pin SSOP, MCP3909 IC has two 16-bit delta-sigma ADCs accessible via SPI interface and pulse output with frequency proportional to active-power calculation. Typical measurement error is 0.1% over 1000:1 dynamic range, and 4 mA supply current makes IC suitable for single- and 3-phase energy meter designs. Also available, MCP3909 Three-Phase Energy Meter Reference Design includes MCP3909 ICs (3), PIC18F2520 and PIC18F4550 microcontrollers, and software package.
---
Original Press Release:

Microchip Unveils Next Generation Energy-Measurement IC and Reference Design



CHANDLER, Ariz., Feb. 13, 2007 [NASDAQ: MCHP] - Microchip Technology Inc., a leading provider of microcontroller and analog semiconductors, today announced the MCP3909 energy-measurement IC and reference design. The highly accurate IC combines low power consumption with an SPI interface and active power-pulse output, making it adaptable to a wide variety of meter designs. Together with the MCP3909 3-Phase Energy Meter Reference Design, the IC enables designers to develop and bring meter designs to market quickly.

The MCP3909 IC has two 16-bit delta-sigma Analog-to-Digital Converters (ADCs) onboard that can be accessed through its SPI interface, while simultaneously providing a pulse output with a frequency proportional to the active-power calculation. This simultaneous output of data makes the IC flexible and easy to use, as well as adaptable to a variety of meter requirements. Additionally, with its very low, 0.1% typical measurement error over a 1000:1 dynamic range, the MCP3909 IC easily fits into meter applications requiring high accuracy. Its extremely low supply current of only 4 mA makes it suitable for many single- and three-phase energy meter designs, and helps customers remain within their power budget.

"With its high levels of integration and accuracy, the MCP3909 is a user-friendly energy measurement IC that can be easily applied to a variety of single- and three-phase metering applications," said Bryan Liddiard, vice president of marketing with Microchip's Analog and Interface Products Division. "Together with the MCP3909 3-phase Energy Meter Reference Design, users can quickly get started on metering designs using PIC® microcontrollers."

Development Support
The MCP3909 3-Phase Energy Meter Reference Design (Part # MCP3909RD-3PH1) includes three MCP3909 ICs, plus a PIC18F2520 and a PIC18F4550 microcontroller. The PIC18F2520 performs all power calculations in the reference design, while the PIC18F4550 provides a USB interface to desktop software. The software package that comes with the reference design enables meter calibration and the ability to read active and apparent power, as well as RMS current and RMS voltage. The reference design is expected to be available for purchase in March at www.microchipdirect.com, at a price of $175 each.

For additional resources, visit Microchip's online Utility Meter Design Center (www.microchip.com/meter). This comprehensive site provides engineers with all of the technical tools and resources needed to create accurate, reliable and low-cost utility metering applications, including energy, water, gas and heat meters.

Device Pricing, Packaging and Availability
The MCP3909 energy-measurement IC is well suited for a variety of single- and three-phase industrial and consumer energy meters. Samples can be ordered today from sample.microchip.com. The IC is available in a 24-pin SSOP package and can be purchased today from www.microchipdirect.com for $1.51 each in 10,000-unit quantities.

For further information, contact any Microchip sales representative or authorized worldwide distributor, or visit Microchip's Web site at www.microchip.com/MCP3909.

Microchip Customer Support
Microchip is committed to supporting its customers by helping design engineers develop products faster and more efficiently. Customers can access four main service areas at www.microchip.com. The Support area provides a fast way to get questions answered; the Sample area offers free evaluation samples of any Microchip device; microchipDIRECT provides 24-hour pricing, ordering, inventory and credit for convenient purchasing of all Microchip devices and development tools; finally, the Training area educates customers through webinars, sign-ups for local seminar and workshop courses, and information about the annual MASTERs events held throughout the world.

About Microchip Technology
Microchip Technology Inc. (NASDAQ: MCHP) is a leading provider of microcontroller and analog semiconductors, providing low-risk product development, lower total system cost and faster time to market for thousands of diverse customer applications worldwide. Headquartered in Chandler, Ariz., Microchip offers outstanding technical support along with dependable delivery and quality. For more information, visit the Microchip website at www.microchip.com.

Note: The Microchip name and logo, and PIC are registered trademarks of Microchip Technology Incorporated in the U.S.A. and other countries. All other trademarks mentioned herein are the property of their respective companies.

More from Electronic Components & Devices