Energy Management Software incorporates web browser.
Press Release Summary: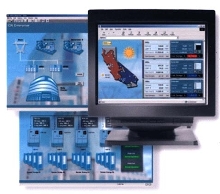 ION Enterprise(TM) v4.0 makes vital power system information available to authorized users anywhere through web browser. WebReach(TM) enables users to access meter events, waveforms, data logs, and real-time system information from any computer with Internet access. Software offers combination of energy information and control capabilities that simultaneously address billing, load aggregation, cost allocation, power quality management, and distributed generation.
---
Original Press Release:

Power Measurement Simplifies Web-based Energy Management with ION Enterprise 4.0


VICTORIA, BC - June 14, 2002 - Power Measurement, a leading provider of enterprise energy management systems, today announced the release of its most web-friendly software to date: the ION Enterprise(tm) 4.0 energy management software featuring WebReach (tm) . The new WebReach feature further extends the capabilities of the ION Enterprise software by making vital power system information available to authorized users anywhere around the globe through a simple web browser. WebReach enables ION Enterprise users to access meter events, waveforms, data logs, and real-time system information from any computer with Internet access; it displays information through a standard web browser, such as Microsoft(r) Internet Explorer, and requires no additional software or special configuration. With WebReach, users can check on their energy management system from anywhere in the world, plus they can copy and paste data logs from ION Enterprise to other enterprise applications, such as Microsoft(r) Excel, for custom reporting and analysis.

ION Enterprise 4.0 is designed to help energy suppliers, service providers, and consumers take charge of the quality, reliability and cost of their electricity. The software offers a unique combination of energy information and control capabilities that can simultaneously address diverse needs ranging from billing, load aggregation and cost allocation, to power quality management and distributed generation. It leverages popular communications infrastructures - Internet, Ethernet, telephone, and wireless - to provide a high degree of accessibility, responsiveness and affordability. Together with the company's ION(r) revenue-accurate metering and control devices, ION Enterprise forms a network of distributed intelligence that can span the energy assets of nationwide commercial facilities, industrial plants, or utility substations.

ION Enterprise 4.0 is available now from Power Measurement.

About Power Measurement:
Power Measurement is a leading provider of enterprise energy management systems for energy suppliers and consumers worldwide. The company's ION(r) web-ready software and intelligent metering and control devices comprise a complete real-time information and control network that helps improve power quality, reduce energy costs and keep operations running enterprise-wide, 24 hours a day. For more information, visit the Power Measurement web site at www.pwrm.com.

Media Contact:

Anthony Tisot
Public and Media Relations Manager
POWER MEASUREMENT
Tel: (250) 652-7100 (#7618)
Fax: (250) 652-0411
E-mail: anthony.tisot@pwrm.com
Web: www.pwrm.com

More from Computer Hardware & Peripherals