Energy-Efficient LED Driver suits automotive LDC backlights.
Press Release Summary: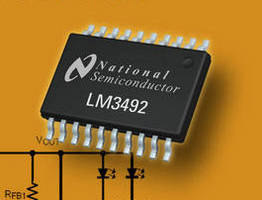 PowerWise® LM3492 LED driver features dynamic headroom control that automatically adjusts LED driving voltage to minimum required level. Boost converter and 2-channel current regulator drive 2 independently dimmable LED strings with maximum power of 15 W and output voltage of up to 65 V. Fast slew rate current regulators allow high frequency and narrow pulse width dimming signals to achieve contrast ratio of 1,000:1. LED current is programmable from 50-200 mA by single resistor.
---
Original Press Release:

National Semiconductor Introduces LED Driver with Dynamic Headroom Control for Automotive LCD Backlight Applications



PowerWise Controller Drives Two Independently Dimmable LED Strings

SANTA CLARA, Calif. - National Semiconductor Corp. (NYSE:NSM) today announced the LM3492 LED driver with dynamic headroom control that accurately and efficiently drives current to two independently dimmable strings of LEDs. The LM3492, a member of National's PowerWise® energy-efficient product family, maximizes system efficiency and reduces system complexity and cost in automotive LCD backlight applications.

The LM3492's dynamic headroom control feature dynamically adjusts the LED supply voltage through the boost converter feedback to the lowest level required to provide optimal system efficiency. Three embedded MOSFETs reduce system complexity and cost.

Technical Features of National's LM3492 LED Driver

National's LM3492 integrates a boost converter and a two-channel current regulator to efficiently and cost-effectively drive two independently dimmable LED strings with a maximum power of 15W and an output voltage of up to 65V. Integrated fast slew rate current regulators allow high frequency and narrow pulse width dimming signals to achieve a very high contrast ratio of 1000:1. The LED current is programmable from 50 mA to 200 mA by a single resistor.

To maximize the efficiency, dynamic headroom control (DHC) automatically adjusts the LED driving voltage to a minimum level. DHC also facilitates a single bill of materials for different number of LEDs in a string, which is required for backlight panels of different size, thereby reducing overall development time and cost.

The LM3492 includes a versatile COMM pin which serves as a bi-directional input/output pin interfacing with an external MCU for command and diagnostic functions.

Offered in a 20-pin thermally enhanced TSSOP package, the LM3492 is ready for design on National's WEBENCH® LED Designer at www.national.com/analog/webench.

For more information or to order samples, visit www.national.com/pf/LM/LM3492.html.

Pricing and Availability

Available now, National's LM3492 is priced at $1.75 and the LM3492Q with AECQ-100 Grade 1 qualification is $2.10 in 1,000-unit quantities. More information about National's lighting products is available at www.national.com/analog/led.

About National Semiconductor

National Semiconductor is a leader in power management technology. Known for its easy-to-use analog integrated circuits and world-class supply chain, National's high-performance analog products enable its customers' systems to be more energy efficient. Headquartered in Santa Clara, Calif., National reported sales of $1.42 billion for fiscal 2010. Additional information is available at www.national.com.

National Semiconductor and PowerWise are registered trademarks of National Semiconductor Corporation. All other trademarks are the property of their respective owners.

Gayle Bullock

National Semiconductor Public Relations

3689 Kifer Road, M/S G1-124

Santa Clara, CA 95051

Tel: (408) 721-2033

Cell: (408) 464-2516

Fax: (408) 721-3238

Email: gayle.bullock@nsc.com

National Semiconductor, 3689 Kifer Road, M/S G1-124, Santa Clara, CA 95051 United States

More from Software