Energy Efficiency Times Mechatronics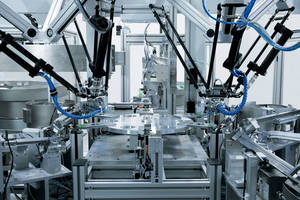 Technology-neutral selection of electric and pneumatic drives

Users often make the choice of drive technology - pneumatic or electric - over-hastily on the basis of experience alone. In order to identify the most energy-efficient customer solution in the field of automation, however, a technology-neutral comparison is required. This is exactly the approach that Festo takes in order to achieve the most efficient mechatronic solutions for its customers.

HAUPPAUGE, NY - With the engineering software PositioningDrives, users require just a few key data in order to arrive at the right solution. Which electro-mechanical linear actuator best meets requirements? All that is needed in order to find this out is the input of position values, the payload and the installation position, and the software will then suggest an optimized solution. Incorrect dimensioning and wasting energy become a thing of the past.

A common dimensioning process for mechanical drive and transmission components and motors prevents a duplication of safety factors, which would result in over-dimensioned electric drive systems and a waste of energy. Calculations have shown that, with consistent use of Positioning Drives for dimensioning, energy costs can be reduced by as much as 70 percent.

Correct dimensioning

A similar Festo dimensioning software program helps users select the right-sized pneumatic drive. Excessively large cylinders consume air unnecessarily, while cylinders that are too small need to be operated at the maximum permissible pressure. High system pressures waste money. Air consumption can also be reduced through the use of single-acting cylinders wherever possible.

When Festo dimensioning software is used for pneumatic dimensioning, simulations take the place of costly real-life testing of the entire pneumatic control chain. If a parameter is changed, the program automatically adapts all the other parameters. When users configure a pneumatic control chain, the program ensures that all the system components are the optimum size. This makes it possible to reduce pressure losses, pressure levels and tubing size. In the planning of the pneumatic system, short electric cables and compressed air lines help save energy.

A further factor in choosing a drive technology is that electrical systems can be overloaded for a short time only, while pneumatic systems can be overloaded over a longer period. It is therefore usually possible to use smaller sized components.

Power switch off

The correct choice of screw geometry also affects operating costs. A self-locking screw for vertical lifting motions eliminates the need for an energy-intensive holding brake. It is often possible to switch electric drives off while these are at a standstill. Energy recovery can be used to good effect with braking energy.

Light, tight, precise

When selecting drives, it is useful to know about their product features: light materials, better seals and hermetically sealed drive systems reduce energy consumption. Combinations of guided drives help to avoid misalignment and thus potential leakage and friction.

Energy savings in the system

Festo can create energy-optimal solutions in the fields of handling systems and control technology. Supplied ready-to-install and fully pre-tested, lightweight handling systems such as the high-speed handling Tripod EXPT or the high-speed H-gantry EXCH are delivered directly to users' applications. The low weight of the Tripod, with its rod kinematics made up of standard electromechanical components and ultra-light carbon fiber rods, ensures the efficient use of drive technology. In the case of the H-gantry, which offers the most dynamic motion of any gantry design, stationary motors for the X- and Y-axes ensure lower moving masses. In control technology systems, for example, the double motor controller CMMD-AS with its coupled intermediate circuits exploits braking energy for recovery purposes.

Customers' handling tasks determine the form which a solution takes - regardless of the type of drive. Festo's experts make use of the company's entire range of more than 30,000 products to select the best drive solution - servo pneumatic, electric or pneumatic - on a technology-neutral basis, working on the principle of "Energy efficiency times mechatronics equals success."

For sales information, call Festo at 800-993-3786 and visit www.festo.com/us.


More from Material Processing