End Mills suit machining of hi-temp alloys.
Press Release Summary: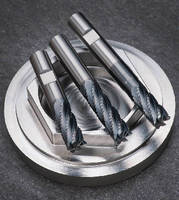 Featuring carbide core and 6 flutes with optimized rake and relief angles for maximum cutting engagement, INCONEX M8 Series is suitable for machining Inconel, Hastalloy, Waspalloy, and similar hi-temp alloys. All tools are made with corner radius to prevent chipping in strong metals. Designed to keep tools lubricated, AlCrNX coating protects cutting edges from intense heat generated in cutting zone. As added benefit, tools produce small chips that can be easily flushed from work zone.
---
Original Press Release:

New INCONEX End Mills Break Productivity Barriers in Tests with Hi-Temp Alloys



IMCO launches 6-flute line with up to 3x tool life in Inconel.



(Perrysburg, OH) -- IMCO Carbide Tool today announced a January launch for a new high-performance end mill designed specifically to overcome the challenges of machining in hi-temp alloys.



"The new INCONEX line is a real breakthrough in productivity for machining in Inconel, Hastalloy, Waspalloy, and similar hi-temp alloys," said Perry Osburn, IMCO president. Tested in-house against an array of competitor's end mills and IMCO's own Omega-6 design, INCONEX end mills lasted up to three times longer than competitors' designs and twice as long as the Omega-6 tools. (See attached Fact Sheet for details.)



"Today's hi-temp alloys were engineered to hold up under some of the worst conditions on the planet," said Matt Osburn, IMCO Vice President, Operations. "When you're machining, those same high-strength properties become barriers to productivity. They can chew through conventional cutting tools in no time." 



"INCONEX M8 Series tools are designed with high-strength properties and a special chip creation design to break through those barriers and keep on going."



New INCONEX M8 Series tools feature a carbide core with 20% higher transverse rupture strength and six flutes with optimized rake and relief angles for maximum cutting edge engagement. Advanced AlCrNX coating protects the tool's specially engineered cutting edges from the intense heat generated in the cutting zone.



"Then we developed a new chip creation design," explained Steve Avers, Application Support Team Leader. "Each cutting edge is specially shaped to reduce edge wearing stress in the cutting zone. An added benefit of the new design is much smaller chips that can be easily flushed from the work zone."



"With increased demand for hi-temp alloys in the aerospace and energy industries, INCONEX M8 Series tools will fill a real need for longer tool life," said IMCO Sales Manager Tim Elfreich. "It's a big step ahead."



An 88-page catalog of IMCO's full line of productivity-driven end mills, including the INCONEX M8 line, is available at www.imcousa.com.  For a printed catalog, call IMCO at 1-800-765-4626 or contact your IMCO sales representative.



About IMCO Carbide Tool Inc.

Since 1977, IMCO Carbide Tool Inc. has focused on one goal: to provide manufacturers in a variety of industries with quality products that will help them achieve new levels of profitability, customer satisfaction and a competitive advantage. By revolutionizing the way their tools are designed, produced, tested and used, IMCO strives to meet the ever-changing needs of a technologically diverse customer base. In serving the needs of customers world-wide, IMCO will continue to focus investments on the areas that matter most to the consumer - product quality, performance and service. For more information, please call 1-800-765-4626.



FACT SHEET



Features



INCONEX M8:




All tools made with corner radius – Prevents chipping in crazy-strong metals.



Specially designed cutting edges – Reduces edge damaging stresses in the cutting zone for longer tool life.



Tough carbide core – Higher transverse rupture strength for longer tool life.



Six high-strength flutes – Higher cutting-edge engagement and more cutting edges for longer tool life.



Optimized rake and relief angles – Premium eccentric grind and edge treatment for prolonged wear.



Advanced AlCrNX coating – Keeps tool lubricated and cutting longer in hi-temp alloys.



Neck relief option – Improves stability; minimizes flute length, maximizes reach.



Testing

1/4" tool in Inconel 718 at competitor-suggested speed/feed rates.



Results

= Up to 3x the tool life of competitors' tools

= More than 2x the tool life of IMCO's high-performance 6-flute Omega-6

More from Fluid & Gas Flow Equipment