End Mills provide plunge milling, drilling, and channeling.
Press Release Summary: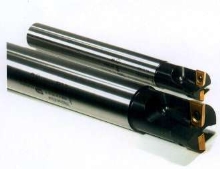 ValMILL(TM) V520 drill/end mills are available in 0.826, 1.023, and 1.299 in. diameters with shank diameters of 0.750, 1.000, and 1.250 in., respectively. Units feature 2 identical trapezoidal inserts located in same axial plane, allowing 2 cutting edges for plunging and end milling operations. Inserts have PVD-coated, micrograin grade and top-face geometry for resistance to wear and thermal shocks. Applications include steel, stainless steel, and iron.
---
Original Press Release:

New Valenite Valmill(TM) V520 Versatile End Mill for Plunge, Drilling, Channeling & More


An axial feed milling cutter with strength, rigidity and clearance ideal for deep machining of cavities with large overhangs for die and mold as well as general milling applications

Valenite showcased at EMTS '04 the new ValMILL(TM) V520 Series of drill/end mills developed for deep plunge milling applications, but capable for a range of other machining operations including drilling, channeling, contouring, shouldering and ramping. The V520 cutters feature two identical trapezoidal inserts located in the same axial plane allowing two effective cutting edges when plunging, as well as two effective cutting edges for conventional end milling operations.

One insert is mounted with it's longer cutting edge oriented along the axis of the cutter, while the second has its shorter cutting edge aligned with the axis. The smooth cutting action provided by the dual cutting edges, along with the strength afforded by the insert geometry and cutter body allows machining with overhang ratios (completed in steps) of approximately five times the diameter for drilling/plunging, and three times the cutter diameter for conventional milling applications.

The shank of the cutter body is purposefully engineered smaller than the cutting diameter, thus giving adequate clearance for plunge feeds and retraction offsets without the risk of collision with workpiece surfaces.

Valenite offers three diameters of the V520 deep plunge/end mills including 0.826 inches (21 mm), 1.023 inches (26 mm), and 1.299 inches (33 mm)-shank diameters of 0.750, 1.000, and 1.250 inches, respectively. The V520 system uses inserts with a high-strength PVD coated, micrograin grade (VP5020) and top-face geometry-an insert highly resistant to wear and thermal shocks-for applications and materials ranging from steels and stainless steels, to irons. This cutter system is designed for use on the toughest tool steels. Insert mounting is secured using the advanced Torx Plus® locking screw and driver system.
As with all Valenite products, the ValMILL V520 plunging end mills are backed by the company's top-rated Customer Service for ordering, pricing and delivery scheduling, plus a technical support staff offering continuously updated product and application data, and recommendations to optimize metal cutting productivity.

Valenite, headquartered in Madison Heights, Michigan with sales and service operations worldwide, is one of the largest suppliers of industrial cutting tools in the world. The company offers a complete line of standard and special indexable-insert turning, milling, grooving, threading, boring and drilling products to a variety of industries. Its product line also includes the VALCOOL® line of cutting fluids. In addition, special high-production tooling for custom machining systems is produced under the MODCO® name and a full range of inline, process and bench gaging systems is produced under the GAGING Systems name.

More from Computer Hardware & Peripherals