Encode/Decode Appliance supports H.264 encoding up to 4K.
Press Release Summary: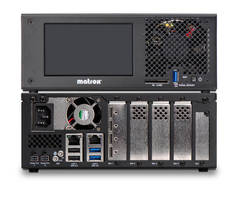 Providing simultaneous multi-stream encoding/decoding up to 4Kp60, Endea™ OEM Reference Platform facilitates development of purpose-built encoders, decoders, transcoders, and video switchers. Platform features fully programmable codec engine, SDK with low level API, and H.264 profiles. In addition to 4:2:0, 4:2:2, and 4:4:4 8- and 10-bit sub-sampling, Endea provides content-adaptive de-interlacing with anti-aliasing as well as multi-layer compositing, keying, and blending.
---
Original Press Release:

Matrox Announces Endea Multi-channel Encode/Decode Platform for Developers at IBC2015



OEMs are invited to explore a comprehensive video switching platform featuring high-density, low-bitrate, H.264 encoding up to 4K



MONTREAL —  Matrox® Graphics Inc. today announced that its latest multi-channel encode/decode platform for developers will be presented at IBC2015 (Amsterdam, Sept. 11–15) on stand 7.B29. The Matrox Endea™ (Encoder and Decoder Appliance) OEM reference platform greatly facilitates the development of purpose-built encoders, decoders, transcoders and video switchers dramatically reducing R&D investment for designers of H.264 encoding and decoding applications.



"The Endea platform makes it easier for our OEM partners to develop a vast array of products built on Matrox core technology for a wide variety of markets," said David Chiappini, vice president of research and development, Matrox Graphics. "Our rich libraries provide deep control over product customization and come complete with sample code and dedicated OEM development support. We envision product engineers being able to produce highly specialized applications which can include custom I/O configurations mixed with the unique characteristics of our world-class codec and video processing engines using this highly evolved platform for development."



Endea functionality includes capture, encoding, streaming, recording, switching, video processing, special effects creation, decoding, transcoding, and display. OEMs can use Endea for applications such as video wall controllers, video extension products, video and matrix switchers, multiviewers, encoding appliances for streaming and/or recording, decoding appliances, and communications and collaboration appliances.



The Endea OEM reference platform offers advanced features including:



Encode/decode

Simultaneous multi-stream encoding/decoding up to 4Kp60

4:2:0, 4:2:2 and 4:4:4 8- and 10-bit sub-sampling

Panasonic® AVC-Ultra and Sony® XAVC support

CBR and VBR support

Fully-programmable codec engine including GOP structure and frame management

SDK with a full low level API to control every detail of the encoding process

Low-latency encode and decode modes

H.264 profiles from Baseline to High 10 Intra Profile up to Level 5.2



Video processing

Content-adaptive de-interlacing with anti-aliasing

Multi-layer compositing, keying and blending



IP protocols

RTSP/RTP/RTCP, RTP, RTMP and MPEG-TS support

Multicast, unicast and multi-unicast modes of operation



Input/output

Design guidelines for HDMI, DisplayPort and HD/3G/6G/12G SDI



Matrox provides basic input/output options to ingest and/or display video, but also gives OEMs reference designs, engineering schematics, FPGA source code, low-level hardware and software development libraries, best practices implementations for building encoders and decoders, reference materials for designing zero-latency pass-through, and individualized support as needed.



Availability

Matrox Endea is available now for qualified OEMs. Developers may obtain more information by emailing ibcoemtoolkit@matrox.com.



About Matrox Graphics Inc.

Matrox Graphics is a global manufacturer of reliable, high-quality ASICs, boards, appliances, and software. Backed by in-house design expertise and dedicated customer support, Matrox products deliver stellar capture, extension, distribution, and display. Engineering high-quality products since 1976, Matrox technology is trusted by professionals and partners worldwide. Matrox is a privately held company headquartered in Montreal, Canada. For more information, visit www.matrox.com/graphics.



Media Contact:

Janet Matey

Media Relations Manager

Tel: +1 (514) 822-6037

Email: pr@matrox.com



Matrox and Matrox product names are registered trademarks and/or trademarks of Matrox Electronic Systems, Ltd. and/or Matrox Graphics Inc. in Canada and/or other countries. All other company and product names are registered trademarks and/or trademarks of their respective owners.

More from Test & Measurement