Enclosure offers indoor or outdoor protection for DVRs.
Press Release Summary: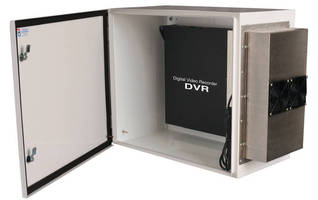 DVR enclosure holds standard 19 in. rack-mountable DVR and protects it from harsh environmental factors such as dust, temperature, moisture, corrosion, and vibration. Equipped with companion cooling system, it is available in full-size, half-size, rack-mount, wall-mount, and custom configurations. NEMA 4 white-powder-coated steel and NEMA 4X SS configurations are also available.
---
Original Press Release:
EIC Introduces Innovative DVR Enclosure
WARMINSTER, PA (November 3, 2008) - EIC Solutions, a leading manufacturer of electronic enclosures and solid state, thermoelectric air conditioners, has recently launched a new enclosure designed to hold a Digital Video Recorder. The DVR enclosure, suitable for indoor or outdoor applications, is built to NEMA specifications. The enclosure is available in NEMA 4 white powder coated steel & 4X stainless steel configurations and equipped with a companion cooling system for complete protection. The DVR enclosure, available in full-size, half-size, rack mount, wall mount and custom configurations, holds a standard nineteen inch rack mountable DVR, which is not included with the purchase of a DVR enclosure. The enclosure comes completely customizable to accommodate any mounting requirements. With the capabilities to occupy more than one device, the new enclosure aims at targeting security companies. EIC's electronic enclosures are designed to provide the protection from harsh and other environments such as dust, temperature, moisture, corrosion, and vibration. "It provides a security solution for many applications such as shopping malls, banks, or toll booths just to name a few" said Bruce Blackway, Sales Manager at EIC Solutions. "The new enclosure is a testament to EIC's commitment to keeping up with technology to better serve our customers and provide the highest quality and most innovative products on the market." The DVR enclosure is set to release on November 26, 2008. Orders can be placed directly through EIC Solutions. The enclosure can be customized to meet your specific needs. For more information on the DVR Enclosure, or any of EIC Solutions' products and services, please visit their website at www.eicsolutionsinc.com or contact customer service at 800-497-4524. About EIC Solutions
EIC Solutions, Inc., located 30 minutes north of Philadelphia in Warminster Pennsylvania, specializes in the design and manufacture of electronic enclosures and thermoelectric cooling systems for a wide range of applications. Our products have been used in a variety of Thermoelectric Enclosure Cooling Applications (TECA) involving the protection of expensive equipment both indoors and outdoors. Dedicated to protecting customer's investments in computers and sensitive electronics, EIC provides innovative solutions and superior service.
Related