Enclosure Kits allow flexible transmitter mounting.
Press Release Summary: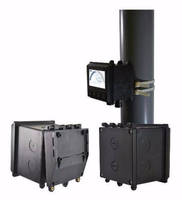 Offered in kits with hinged or flat cover, Signet 9900 Transmitter Rear Enclosures enable flexible mounting of Signet 9900-1P Transmitter onto pipes, walls, tanks, struts, at angles, or inside panels. Holes for wiring in any orientation can be drilled on any enclosure side for further flexibility, and room is provided to accommodate all accessory modules: 4–20 mA output, batch, relay, conductivity, and H COMM. UL and NEMA TYPE 4X/IP66 ratings suit indoor and outdoor installations.
---
Original Press Release:

New Transmitter Enclosure Kits from GF Piping Systems Mount Anywhere



IRVINE, Calif. – GF Piping Systems introduces the Signet 9900 Transmitter Rear Enclosures.  Designed for complete flexibility, these kits include a hinged cover or flat cover that make it possible to mount the company's Signet 9900-1P Transmitter virtually anywhere, including onto pipes, walls, tanks, struts, at angles or inside panels for waterproof protection.  Holes can be drilled on any enclosure side allowing even further flexibility for wiring in any orientation.



The Rear Enclosure Kits are compatible with all generations of the 9900-1P Panel Mount Transmitter and have sufficient room for all accessory modules (4 to 20 mA Output, Batch, Relay, Conductivity and H COMM). The enclosures are UL and NEMA TYPE 4X/IP66 rated for indoor and outdoor installations.



The Signet 9900 Transmitter, part of the SmartProTM Family of Instruments, provides a single-channel interface for multiple parameters including Flow, pH, ORP, Conductivity/Resistivity, Pressure, Temperature, Level, Salinity and more. An extra large (3.90" x 3.90"), highly illuminated backlit display and large characters reduce the risk of misreading or misinterpreting displayed values. 



Other important features include relay and warning LEDs, an intuitive menu for easy programming, and plug-in modules that enable the unit to be easily adapted to meet changing customer needs.These versatile performance capabilities combine to make the 9900 well suited for a wide variety of applications including wastewater treatment, reverse osmosis, deionization, chemical manufacturing, metal and plastic finishing, fume scrubbers, cooling towers and media filtration.



For more information, click here or contact GF Piping Systems at toll Free (800) 854-4090; e-mail: us.ps@georgfischer.com; Web: www.gfps.com.



About GF Piping Systems

GF Piping Systems supplies a full range of plastic pipe, fittings, valves, actuators, rotameters, fusion machines, secondary containment, heat exchangers, custom products, and sensors and instrumentation for industrial process control. For further information, please contact: GF Piping Systems, 9271 Jeronimo, Irvine, CA 92618-1904 USA; Toll Free (800) 854-4090, Fax (714) 731-6923; e-mail: us.ps@georgfischer.com; Web: www.gfps.com



All trademarks are the property of their respective companies.



Contact Information:

Georg Fischer LLC USA

9271 Jeronimo

Irvine, CA 92618-1904

www.gfps.com



Dave Vollaire

Product Manager

Tel : +1 714 368 4162

Email: dave.vollaire@georgfischer.com



More from Printing & Duplicating Equipment