Enclosure Cooling System delivers 2-stage protection.
Press Release Summary: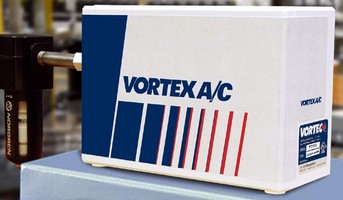 Only requiring compressed air supply for operation, Vortex A/C(TM) installs on electrical control panels in environments up to 175°F to maintain enclosure temperatures within 80 to 90°F range. UL-listed cooling system, rated at 5,000 BTUH, features dual vortex tube cooling units that each have mechanical thermostat. First stage offers 2,500 BTUH cooling capacity and, if needed, second stage activates to double supply of refrigerated air to enclosure.
---
Original Press Release:

Avoid Downtime with Affordable Enclosure Cooling



New 5000 BTUH Vortex A/CTM Model Offers Two-Stage Cooling Protection

Vortec has introduced its latest model to their lineup of UL listed, Vortex A/CTM cooling systems for electrical enclosures. Requiring only a compressed air supply to operate, the Vortex A/C quickly installs on electrical control panels to maintain enclosure temperatures within a range of 80° to 90°F (27° to 32°C). The new 5000 BTUH Vortex A/C model features dual vortex tube cooling units, each with its own reliable mechanical thermostat to provide two-stage levels of refrigeration. To conserve energy, the first stage offers 2500 BTUH cooling capacity and, if needed, a second stage activates to double the supply of refrigerated air to the enclosure. At a fraction of the size and cost of a refrigerant-based air conditioner, the Vortex A/C provides reliable, below-ambient cooling in environments up to 175°F (79°C). The "no-downtime", maintenance-free units incorporate vortex tube technology to convert filtered compressed air into a low pressure, refrigerated air stream distributed throughout the enclosure. Refrigerated air entering the cabinet provides a light positive purge to seal out contaminants, while hot air is expelled through a relief valve. Even when the Vortex A/C cycles off, a "purge-air port" can be opened to create a slight positive pressure in the cabinet to keep out dust and dirt. As with other cooling capacity models, the 5000 BTUH unit is suitable for NEMA Type 4 and 4X rated electrical cabinets, and can be mounted on the top or side of the enclosure.

For more information:
Vortec - ITW Air Management
10125 Carver Road, Cincinnati, OH 45242
Phone: 800/ 441-7475
Fax: 513/ 891-4092
E-mail: techsupport@vortec.com
Website: www.itwvortec.com

Related