Enclosure converts from rack mount to desktop.
Press Release Summary: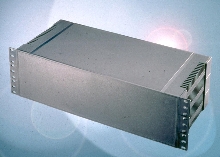 Enclosure, made of ABS plastic, with UL94-HB flammability rating, provides electrical insulation. Three sizes handle most applications: PRM-14460 is 1.75 in. high (1-U), PRM-14462 is 3.50 in. high (2-U), and PRM-14464 is 5.25 in. high (3-U). Width is 19 in., including mounting brackets, and depth is 8 in. Internal electronics mount in either horizontal position or on front and/or rear panels. Ventilated side panels provide for cooling of internal components.
---
Original Press Release:
New 19" Plastic Rack-Mount Enclosures Convert From Desktop To Rack-Mount

CLEVELAND - May 21, 2002 - Bud Industries, Inc., a leading manufacturer of electronic enclosures, announces three new low cost Rack-mount Enclosures that can be quickly and easily converted from a rack-mount to a desktop configuration. These low-cost Rack-mount Enclosures are in stock for immediate delivery.

The enclosures are made out of a durable, black ABS plastic with a UL94-HB flammability rating, which provides an electrically insulating enclosure. Side panels are fully ventilated to provide for maximum cooling of internal components.

In response to customer requests, these Rack-mount Enclosures are now available in three new popular sizes that will handle most applications as a standard product, eliminating the need to design and build a custom enclosure. All enclosures are 19" W
including rack mounting brackets, 17" body width and 8" deep. Catalog number PRM-14460 is 1.75" H(1-U), PRM-14462 is 3.50" H (2-U) and PRM-14464 is 5.25" H (3-U). Internal electronics can be mounted in either a horizontal position or on the front and or
rear panels. More sizes are available and modifications in size and color are offered.

Contact the factory for more information on customized boxes to meet your product requirements.

Same Day Shipment. The Rack-mount enclosures are priced, sold and packaged in quantities of one and, unlike products available from competitive enclosure manufacturers, are available in stock for same day shipment. These Rack-mount Enclosures are competitively priced starting at $19.75. For more information on the rackmount boxes, or any Bud Industries product, visit www.budind.com, or contact the Sales/Service Department at:

4605 E. 355th Street

Willoughby, OH 44094

Phone: 440-946-3200

Fax: 440-951-4015

Web: www.budind.com

Email: saleseast@budind.com

About Bud Industries, Inc. Bud Industries, Inc., founded in 1928, is the nations leading manufacturer of enclosures and related products for the electronics and data industries.
The Bud line includes products ranging from small hand held boxes to large cabinet racks, products made from plastic as well as metal, and standard electronic products as well as those that meet NEMA and Seismic requirements. Bud's standard line of over
2500 products is heavily stocked by distribution as well as the company, allowing same day shipment on over 90 percent of the enclosures sold. Modified standard and custom products are also available, as is complete design support.

More from Materials