Emuge Introduces New Extensive Thread Gage Line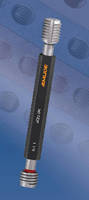 WEST BOYLSTON, MA U.S.A.  – Today Emuge Corp., the leader in thread cutting technology, has introduced a comprehensive line of precision fixed limit thread gages consisting of GO/NO-GO plug gages that are manufactured to ANSI/ASME B1.2 (Unified Inch) and ANSI/ASME B1.16M (Metric M) standards. A Certificate of Accuracy is available for each gage in the new thread gage program.



"Our new Thread Gage program is very extensive, with a wide range of features, sizes, options and advantages" said Mr. Mark Hatch, Product Director of Taps and Thread Mills at Emuge Corp. "Our thread gages also accommodate both 2B and 3B classes of fit and certificates are available as well."



Emuge Thread Gages inspect the pitch diameter and functional thread for internal-threaded components. Being fixed limit gages, Emuge Thread Gages provide a GO/NO-GO status of the internal threaded hole.



Emuge Thread Gages are made in Germany by Emuge, are manufactured of exceptionally hardened tool steel and are highly accurate. Incomplete threads on the gaging ends are removed before the beginning of the full thread, for creating a stable thread start and for easy insertion into the threaded hole.



A recessed minor thread diameter is featured on the NO-GO side, and a dirt flute is provided on the GO side, to eliminate gage / thread damage in demanding environments. The GO and NO-GO sides are each mounted on the one gage handle. Gage handles are knurled for maximum gripping ability and safety.



Each handle is clearly identified with the size and Emuge identification number for traceability and ample space is also provided for custom laser marking requirements, a service which is available. The NO-GO side is clearly marked with a red ring.



Thread gages accommodate 2B, 3B (inch) and 6H (metric) classes of fit and a full range of stocked gages are available in inch and metric in coarse and fine, UNC,UNF, UNS and NPT. Sizes range from 1-64 to ¾ -10 for inch, and M1.6 to M22x1 in metric, and gages in all sizes are available with a certificate of accuracy upon request.



Emuge Corp. is a subsidiary of the 1,500+ employee German company EMUGE-Werk Richard Glimpel GmbH & Co. KG that has been the product technology and performance leader in their field for over 90 years. The company also manufactures an extensive line of taps, thread mills, end mills, holders and attachments, over 100,000 items sold through distributors worldwide.  Emuge also offers end-user technical support through a network of in-the-field engineers and in-house product specialists, all with extensive tooling and application experience.



Over 10,000 types of cutting tools and accessories are stocked in the company's North American Headquarters located in West Boylston, MA, USA. The 21,000 square foot state-of-the-art facility, custom-designed and built in 2005, also serves as a technology center, equipped with a 5-axis CNC machine, and featuring a showroom and classroom.



For more information on the entire line of Emuge tools, contact Emuge at 1800 Century Drive, West Boylston, MA 01583-2121, Tel. 800-323-3013, internet; www.emuge.com .

More from Software