Emuge Expands Multitap™ General Purpose, High Performance Tap Line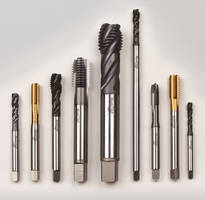 Over 80 new SKU's round out the industry's broadest line of multi-purpose taps.
WEST BOYLSTON, MA U.S.A. (May 31, 2017) – Today Emuge Corp. (www.emuge.com), the leader in tapping technology for nearly 100 years, has announced the expansion of its MultiTAP line, the industry's first high performance taps designed to cut a wide range of materials including carbon steel, steel alloys, stainless steel, aluminum, cast iron, copper, brass, and bronze. With 87 new SKU's, the Emuge MultiTAP line comprises the most expansive offering available of both regular and extended length spiral point and spiral flute taps, as well as roll form taps (http://emuge.com/products/taps/multitap).
MultiTAP features an innovative geometric design as well as a special base material and surface treatment, allowing it to handle a wide range of materials and applications. This eliminates the need to stock numerous types of taps in the tool crib. MultiTAP is uniquely designed to produce threads within both 2B and 3B classes of fit, removing guesswork from choosing the correct H-limits.
Emuge was the first to introduce a high performance multi-purpose tap more than six years ago. MultiTAP is the result of collective years of Emuge's extensive tapping expertise, application research and a challenge the company issued to its engineers to design a true multi-purpose tap. MultiTAP is comprised of premium high vanadium cobalt high speed steel (HSS-E), nitrided with an Ne2 surface treatment or TiCN-coated for extended tool life. It is available in both spiral point and spiral flute configurations for through-or blind-hole applications. Tap sizes cover a full range for UNC or UNF threads, from #4-40 to 1"-12" in inch sizes, to metric sizes from M4 x 0.7 to M24 x 3.0.
Emuge Corp. is a wholly owned subsidiary of the 1,500+ employee German company EMUGE-Werk Richard Glimpel GmbH & Co. KG (Lauf, Germany) that has been the product technology and performance leader in their field for nearly 100 years. The company manufactures an extensive line of taps, thread mills, drills, end mills, toolholders, clamping devices and other rotary cutting tools, over 100,000 items sold through distributors worldwide. Emuge also offers end-user technical support through a network of in-the-field engineers and in-house product specialists, all with extensive tooling and application experience.
Over 10,000 types of cutting tools and accessories are stocked in the company's U.S. and Canadian Headquarters located in West Boylston, MA, U.S.A. The 21,000 square foot state-of-the-art facility includes a new technology center with a machining and tooling demonstration showroom and classroom, tool reconditioning manufacturing, warehouse, sales, support and administrative offices. For more information on Emuge products, contact Emuge at 1800 Century Drive, West Boylston, MA 01583-2121, Tel. 800-323-3013, internet: www.emuge.com.
Emuge Contact:
Bob Hellinger
Emuge Corp.
508-595-3600
More from Electrical Equipment & Systems