Empower RF Releases Solid State Transmitting Amplifiers with User Configurable Operating Modes
Press Release Summary: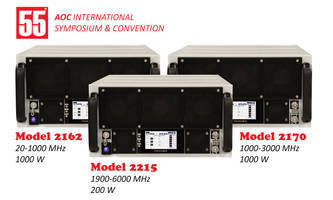 The Solid State Transmitting Amplifiers consist of 2162, 2170, and 2215 models that offer threat emitter capability ranging from 20 to 6000 MHz. The units are suitable for electromagnetic communications, radar and EA waveforms. It has zero input and does not require an external driver amplifier. These amplifiers provide system wide performance monitoring and sensing via Local, LAN, and Browser GUI. The devices are offered in hot swappable, liquid or air cooled configurations.
---
Original Press Release:
Battle Hardened EW Emitter Demonstration at the AOC Convention, Booth 412
Empower RF will demonstrate a suite of high power solid state transmitting amplifiers at the 55th Annual AOC International Symposium and Convention - Washington, DC November 27 – 29th , 2018.
The equipment suite consists of the models 2162, 2170, and 2215 providing compact and rugged EA, communications, and threat emitter capability from 20 to 6000 MHz, and will be housed in Los Angeles while being controlled and monitored by the Empower booth demonstration team who will be exercising the system software demonstrating capabilities of the configurable amplifiers.
Multi-threat Training From a Single System
Empower RF Next Gen family of emitters are currently operating in Multi-Domain scenarios as jamming and communication power amplifiers. With a flexible software defined operation that allows the amplifier to be adaptable to future electromagnetic communications, radar, and EA waveforms, this architecture is favored by integrators of "on range" electronic warfare simulation, test and training systems.
Discuss Your Custom Requirements With Us at Booth 412
Our engineers have designed a stan­dard electromechanical and software architecture that has commonality across power levels and bandwidths that shorten design and manufactur­ing cycles.
Features
Hot Swappable, Liquid or Air Cooled Configurations
0dbm Input, No External Driver Amplifier Required
Redundancy at the System Level
User Configurable Operating Modes
Electronic VSWR protection with Graceful Power Degradation
Zero Point of Failure Configurations Available
System Wide Performance Monitoring and Sensing through Local, LAN, and Browser GUI
Installation Service Available
3 Year Warranty
Learn More About These Products: https://www.empowerrf.com/products/display_amplifier.php?sku=2162
https://www.empowerrf.com/products/display_amplifier.php?sku=2170
https://www.empowerrf.com/products/display_amplifier.php?sku=2215
Download datasheets:
http://www.empowerrf.com/datasheet/Empower_RF_Amplifier_2162.pdf
http://www.empowerrf.com/datasheet/Empower_RF_Amplifier_2170.pdf
http://www.empowerrf.com/datasheet/Empower_RF_Amplifier_2115.pdf
Complete Empower RF Amplifiers Lineup: http://www.empowerrf.com/products/rf_power_amplifier.php
Empower RF Systems is a technologically superior supplier of High Power Solid State RF & Microwave Amplifiers. Our offerings include modules, intelligent rack-mount amplifiers, and multi-function RF Power Amplifier solutions to 10GHz, with output power combinations ranging from tens of watts to multi-kilowatts. Key capabilities and differentiators include Unprecedented size, weight and power reduction, patented architecture that includes an internal "connector-less" RF path (an industry first) with the added benefit of an inherently rugged design, user interface and diagnostics capabilities built around high performance microprocessors and an IP addressable, embedded web server.
MEDIA Contact
Tatyana Safronova
Web & Print Media Manager
tatyana.safronova@empowerrf.com
Tel: 310-412-8100 x124
More from Packaging Products & Equipment