Emissions Controller works with diesel/natural gas engines.
Press Release Summary: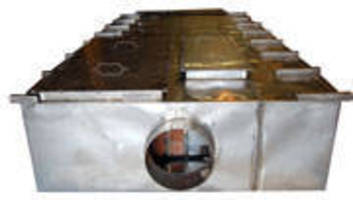 E-POD(TM) combines non-toxic, zeolite-based selective catalytic reduction (SCR) catalyst, diesel particulate filters or diesel oxidation converters, and reductant mixing system within one, fully insulated, stainless steel, critical-grade silencer package. Installed above generator and becoming part of trailer's roof, system with DPFs enables Tier 4 final compliance for diesel stationary engines and NSPS compliance for lean-burn natural gas engines by reducing NOx, PM, HC, and CO.
---
Original Press Release:

E-POD Reduces NOx Emissions on Wyoming Drill Rigs



CleanAIR Systems installs new technology on seven drill rigs to dramatically reduce NOx, PM, HC, and CO emissions

Santa Fe, NM - February 23, 2008 - CleanAIR Systems is pleased to announce the introduction of their new emissions control technology, the E-POD(TM), with the successful installation of seven units on drill rigs operating in Wyoming's Pinedale Anticline Project Area (PAPA).

The proprietary technology combines CleanAIR's non-toxic zeolite-based selective catalytic reduction catalyst (SCR), diesel particulate filters or diesel oxidation converters and unique reductant mixing system all within a single fully insulated, stainless steel, critical-grade silencer package. Unlike other SCR systems that only reduce NOx, CleanAIR's E-POD(TM) with DPFs enables Tier 4 final compliance for most diesel stationary engines and New Source Performance Standards (NSPS) compliance for lean-burn natural gas engines by dramatically reducing NOx, PM, HC and CO.

Working in conjunction with Caterpillar dealer Wyoming Machinery Company, custom-engineered E-PODs(TM) using diesel oxidation converters were installed on seven diesel generators between September 2008 and January 2009 at PAPA.

An innovative drop-in design was developed for several of the E-PODs(TM) as a trouble-free solution to moving the system when relocating to a new drill site. A typical SCR system is bulky and difficult to move. Most systems require dismantling, placement on a flatbed and hauling to the next drill location, where they are then reassembled and once again lifted into place. CleanAIR engineers solved this time-consuming and costly moving process by fully integrating the E-POD(TM) within the tight space constraints of the generator trailer. Designed to be lowered into place through an opening at the top of the trailer, the E-POD(TM) is installed above the generator, becoming part of the trailer's roof. This unusual approach allows the emissions control unit to "disappear" from view. It also enables the E-POD(TM) to be transported along with the generator, without the added expense or hassle of dismantling, hauling or lifting a separate unit.

Another state-of-the-art E-POD(TM) feature is the CleanAIR all-in-one Dosing Cabinet, combining an electronic control system and injection system into one easy-to-install unit. Using automatic data-logging, programmable set-points and basic internal diagnostics, the CleanAIR Dosing Cabinet offers end-users simple, uncomplicated operational control and monitoring of the E-POD(TM) system.

Ted Rasmussen, Emissions Business Manager for Wyoming Machinery Company, states:
"We are very pleased with the results we have seen operating the CleanAIR E-POD SCR system in a drilling application. Our goal was a simple design with durable components. It had to withstand harsh conditions here in Wyoming, as well as tough drill rig conditions.

The systems were installed in each Cat 3512 gen/set engine house roof. The control cabinet is sturdy and compact, recognizing that space is at a premium. The unique E-POD catalysts low profile design allows for integration in the roof, saving installation costs and space. All connections from the control cabinet to the catalyst are inside, out of the weather and easy to inspect and maintain.

We have seen emission reductions (NOx) of 90% and more under steady loads, and like the fact that the E-POD system is upgradeable, by adding a particulate filter our customers can reduce PM emissions as well."

On-site emissions monitoring at the Wyoming installation shows NOx emission readings are consistently over 90% reduction.

Caterpillar Emissions Solutions Product Manager, Michael J. Readey states in a recent dealer newsletter: "We enthusiastically anticipate the 2009 release of the E-POD(TM), requested by dealers and developed by CleanAIR. The E-POD(TM) consists of a compact, 'all-in-one' retrofit aftertreatment system that combines greater than 90% NOx and 85% particulate reduction in a single package."

The E-POD(TM) is designed to fit and operate on any diesel or natural gas engine, making it easy for dealers to retrofit and service customer's mixed-fleets without brand conflicts.

With NSPS for lean-burn natural gas engines right around the corner and EPA Tier 4 final compliance on everyone's mind, CleanAIR's new E-POD(TM) technology offers a compact, all-emissions solution to meet both federal regulations. Customers with Tier 1 through Tier 3 existing or new engines can now meet regulations today by installing the E-POD(TM).

For more information, visit CleanAIR Systems at www.cleanairsys.com.

About CleanAIR Systems:
Established in 1993, CleanAIR Systems is a technology-based corporation manufacturing emissions control systems with worldwide distribution. CleanAIR's products are designed to control air pollution such as diesel particulate matter and NOx, for internal combustion engines and gas turbines. The company is a preferred vendor of Caterpillar. Visit CleanAIR Systems online at www.cleanairsys.com.

More from Agricultural & Farming Products