Emissions Analyzer tests gasoline engines in real-time.
Press Release Summary: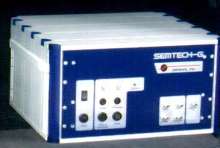 SEMTECH-G simultaneously measures and records vehicles' tailpipe emissions and on-board electronic control systems output while vehicle is driven. It provides immediate analysis of exhaust gas components and is accurate to ±3% of reading when reporting concentrations for NO, CO, CO
2
, and THC. Mass measurements are calculated using information from vehicles' ECMs in g/mi. Measuring 22 x 17 x 14, unit is rack mountable and suits on- and off-road applications.
---
Original Press Release:

Sensors, Inc., Introduces Semtech-G; Provides Real-Time Gasoline Engine Emissions Analysis


SALINE, Mich., October 21 -- Sensors, Inc., with 30 years of experience in designing and building emissions analysis equipment, has introduced SEMTECH-G, a new tool for analyzing emissions of gasoline-powered vehicles on road, in use, real time.

SEMTECH-G was developed in the belief that no matter how sophisticated a laboratory test procedure is, it will never truly replicate real-world operating conditions.

The system enables a vehicle's tailpipe emissions and the output of the vehicle's on-board electronic control system to be measured and recorded simultaneously while the vehicle is driven on the road.

It provides immediate analysis of key exhaust gas components, including total hydrocarbons, oxides of nitrogen, carbon monoxide and carbon dioxide. With the optional NDUV (non-dispersive ultra violet spectroscopy) module, NOx can also be monitored.

At 22"Dx17W"x14"H and weighing only 70 pounds, SEMTECH-G provides lab-level accuracy though it is little larger than a piece of carry-on luggage. It can be rack mounted and has been ruggedized for use in both on- and off-road applications.

"Portability would mean little if accuracy suffered," says Andrew Reading, Ph.D., president of Sensors. "SEMTECH-G offers lab-quality accuracy in a portable unit."

Typical setup time is under 30 minutes.

EPA acquires SEMTECH systems
Acquisition of SEMTECH-G and another Sensors development, SEMTECH-D, for diesel emissions analysis, was announced in August by the Environmental Protection Agency (EPA). This contract is the culmination of several studies that EPA conducted over the past 18 months, some involving the use of Sensors' equipment to test both heavy duty and light duty vehicle emissions. The equipment Sensors, Inc. will provide to EPA will assist in furthering these studies and will extend the testing program to include off-road vehicles.

"Laboratory test procedures cannot truly replicate real-world operating conditions," says Reading. "The only accurate way to get results is to monitor the vehicle as it goes through its actual duty cycle."

Accuracy is ensured with SEMTECH-G. When reporting concentrations for NO, CO, CO2 and THC, accuracy is within ± 3 percent of reading. Resolution and detection limits are similarly precise when SEMTECH-G reports mass.

Mass measurements are calculated using information from a vehicle's ECM in g/mi. For engines without electronic controls, additional instrumentation is provided to deliver g/mi figures.

In addition to collecting performance data under real world conditions, SEMTECH-G typically provides a more economical solution for testing engine emissions than traditional test cell settings. Other potential testing and development applications include:

o Engine and vehicle sub-system development;
o Catalyst and particulate trap testing;
o Vehicle compliance testing;
o Tracing driveability problems;
o Developing engine and vehicle electronic control strategies and calibrations; and
o End-of-line production testing

"With an optional GPS unit," Reading says, "SEMTECH-G can even provide vehicle surveillance."

Further flexibility is provided for data retrieval. Information can be retrieved remotely using a wireless, cellular or satellite link or it can be taken directly from the unit's message center. The message center also displays instrument status, operating condition, fault diagnostics and remote communications status.

SEMTECH-G was designed to meet demanding applications. Key features include solid-state analytical instrumentation, isolation-mounted circuit boards, and heavy-duty electrical components.

SEMTECH-G offers portability, accuracy and convenience for OEMs and labs that must monitor and report on gasoline exhaust emissions characteristics.

Sensors, Inc., has been a leader for many years in the design and manufacture of OEM gas analyzers for the inspection and maintenance (I/M) industry. Over the past four years the company has shifted its R&D focus to on-road, in-use technology, made possible by Sensors, Inc.'s development of robust, solid-state analytical techniques. SEMTECH-G and -D are two of several such products the company now offers.

Contact:
Doug Drummond, National Editorial
Rob Wilson, Sensors Inc.
6812 S. State Rd.
Saline, Ml 48176
734.429.2100
rwilson@sensors-inc.com

More from Fasteners & Hardware