EMI Gaskets shield CompactPCI enclosures.
Press Release Summary: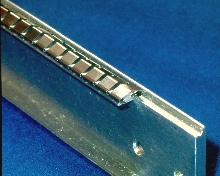 Metal spring finger gaskets provide EMI shielding of faceplate interfaces on high frequency CompactPCI industrial computing and communications systems. Gaskets meet IEEE 1101.10 EMC Front Panel reference design. They are provided in two profiles: one is available in both beryllium copper and stainless steel, and other is produced exclusively in stainless steel. Gaskets are available in standard 3U and 6U CompactPCI lengths, and in easily trimmed 16-in strips.
---
Original Press Release:
New Spring Finger EMI Gaskets Sheild CompactPCI Enclosures
JUNE 10, 2002, WOBURN, MASSACHUSETTS - Chomerics, a division of the Parker Hannifin Corporation, has introduced metal spring finger gaskets for EMI shielding of faceplate interfaces on high frequency CompactPCI industrial computing and communications systems. The gaskets are specifically designed to meet the IEEE 1101.10 EMC Front Panel reference design. They are provided in two profiles: one is available in both beryllium copper and stainless steel, and the other is produced exclusively in stainless steel. The gaskets are available in standard 3U and 6U CompactPCI lengths, and in easily trimmed, 16-inch strips. The gasket strips are comprised of individual fingers, which provide continuous contact with adjoining hardware, even along irregular edge surfaces. They are designed for quick, easy mounting on, and simple removal from, faceplate edges. The gaskets' low-closure force design minimizes loading pressure for smoother card installation and removal. The overall reduction in loading force eases multiple card installation. These EMI gaskets are the newest additions to Chomerics' SPRING-LINE(TM) family of metal fingerstock gaskets. Both profiles fit most standard CompactPCI form factor faceplate designs. Gasket strips can be trimmed to any whole finger length. The beryllium-copper gaskets are available with a choice of finishes: bright nickel, bright tin, and clean and bright. Samples of the new spring finger CompactPCI shielding gaskets are available from Chomerics. Prices start at $1.00 for a 3U length, stainless steel strip in low quantities. Please send inquiries to: John Hannafin Marketing Communications Manager Chomerics, div. of Parker Hannifin 77 Dragon Court Woburn, MA 01888 Tel: 781-939-4486 jhannafin@parker.com Technical Questions: Rick Doucette Product Engineer Chomerics, div. of Parker Hannifin 77 Dragon Court Woburn, MA 01888 Tel: 781-939-4437 rdoucette@parker.com Chomerics, a division of Parker Hannitin Corporation's Seal Group, provides a wide range of EMI Shielding and Thermal Management Materials and services to OEM electronics companies around the world in the Telecom, Information Technology, Power Conversion, Military and Automotive markets. Since 1961, Chomerics has been the primary force in the development of electrically conductive elastomers for use as extruded, molded and form-in-place EMI gaskets. Chomerics also offers an extensive family of thermal interface materials, which transfer heat from electronic components to heat sinks. www.chomerics.com
More from Mechanical Power Transmission