EMI Filters are suited for high speed data lines.
Press Release Summary: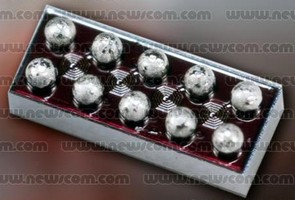 Featuring ESD protection, CM1470 inductor based filter arrays are available in 4-, 6-, and 8-channel versions. Each channel has inductance of 18 nH and input capacitance of 2 pF. ESD diodes connected to filter port safely dissipate ESD strikes of ±2 kV per Level 1 requirement of IEC61000-4-2 international standard. Using MIL-STD-883 (Method 3015) specification for Human Body Model ESD, pins are protected for contact discharges at greater than ±4 kV.
---
Original Press Release:

California Micro Devices Introduces Ultra Low Capacitance Praetorian(TM) EMI Filter for High Speed Data Lines



MILPITAS, Calif., Jan. 17 - California Micro Devices (NASDAQ:CAMD) today introduced a new member of its Praetorian(TM)ASIP(TM) (Application Specific Integrated Passive(TM)) EMI (electromagnetic interference) inductor-based filter arrays family, offering outstanding filter performance combined with robust ESD (electrostatic discharge) protection. The CM1470 targets high speed data lines for high resolution imager interfaces in wireless handsets. In popular clamshell and slider phone configurations, the interface signals are typically routed on a flexible printed circuit board susceptible to EMI. Moreover, as sensor resolution increases, these interfaces operate at higher data rates, and maintaining signal integrity becomes a key requirement. Traditional EMI filters based on R-C (Resistor-Capacitor) architectures result in significant degradation of signal integrity, and cannot filter EMI effectively while maintaining sharp edges of the signal. The ultra low capacitance CM1470 single chip inductor array addresses both requirements by leveraging its Praetorian(TM) process technology that allows the integration of spiral inductors with high levels of ESD protection in an industry leading 0.4mm pitch Chip Scale Package format.

Key Features

The CM1470 is a family of series inductor networks featuring ESD protection. In order to accommodate various interface configurations, it is available in 4, 6 and 8 channel versions. Each channel has an inductance of 18nH and an ultra low input capacitance of 2pF. The series inductor architecture results in minimum insertion loss, high cutoff frequency and therefore an excellent level of signal integrity is preserved on the data lines where the CM1470 is applied. The ESD diodes connected to the filter ports are designed and characterized to safely dissipate ESD strikes of +/-2kV per Level 1 requirement of the IEC61000-4-2 international standard. Using the MIL-STD-883 (Method 3015) specification for Human Body Model (HBM) ESD, the pins are protected for contact discharges at greater than +/-4kV.

The CM1470 is housed in an industry leading ultra compact and very cost effective 0.4mm pitch Chip Scale Package (CSP) of 2.07mm x 0.876mm, 2.87mm x 0.876mm and 3.67mm x 0.876mm for the 4, 6 and 8 channel versions respectively.

Application

The CM1470 is tailored for high speed data lines for high resolution imager interfaces in wireless handsets. Using the CM1470, mobile phone or camera module designers can now provide a high level of EMI filtering on their high speed interfaces without jeopardizing signal integrity. It is common for high resolution sensors to output data rates at 80Mbps, and host processor requirements in terms of input setup time can be as low as 2ns. In order to meet these requirements, the capacitance on the line must be minimized. As the CM1470 features minimum input capacitance, designers now have the flexibility to adjust filter performance and characteristics by tuning the capacitance on the flexible cable on each channel.

Pricing and Availability

The CM1470 is currently sampling, and pricing starts at $0.34, $0.43 and $0.52 in 1,000 units for the 4, 6 and 8 channel configurations respectively. Production is scheduled for Q1 2006. The CM1470 is offered in a lead free CSP package with CMD's optional OptiGuard(TM) coating for increased robustness and durability.

About California Micro Devices Corporation

California Micro Devices Corporation is a leading supplier of application specific analog semiconductor products for the mobile handset, personal computer and digital consumer electronics markets. Key products include Application Specific Integrated Passive(TM) (ASIP(TM)) devices and selected high value mixed signal ICs. Detailed corporate and product information may be accessed at www.calmicro.com.

NOTE: ASIP(TM), Application Specific Integrated Passive(TM), OptiGuard(TM) and Praetorian(TM) are trademarks of California Micro Devices. All other trademarks are property of their respective owners.

CONTACT: Richard Haas of California Micro Devices Corporation, +1-408-934-3108, or richardh@calmicro.com

Web site: www.calmicro.com

More from Electrical Equipment & Systems