EMI Filter reduces electrical pollution in residences, workplaces.
Press Release Summary: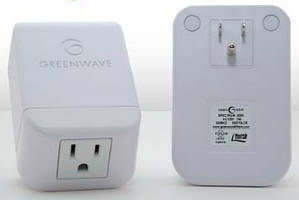 Designed for use where people live, learn, and work, Spectrum 2500i plugs into electrical outlets and removes electromagnetic interference (EMI), or dirty electricity, from building wiring before it spreads potentially harmful radiation into rooms. Grounded, 3-prong, multi-capacitor design enables direct reduction of EMI traveling along all wires in building, including the ground wire. Built-in outlet at base allows access to electricity while filter is in operation.
---
Original Press Release:

Revolutionary Device Reduces Potentially Harmful Electrical Pollution in Homes, Schools, and Workplace



New Greenwave filter now available to purchase: Reduces EMI on building wiring without limiting access to electrical outlets.



SAN RAFAEL, Calif. -- Today, Greenwave International announced availability of its flagship Greenwave Spectrum 2500i EMI Filter. This state-of-the-art filter plugs into electrical outlets and removes electromagnetic interference (EMI), also known as dirty electricity, from building wiring before it spreads potentially harmful radiation into rooms.



"With the dramatic increase of electronics and energy-efficient lighting in homes and other buildings, there is more EMI flowing along wires than ever," says Richard Lear, Chairman of Greenwave International. "Radiation from this type of electro-pollution has been linked with health issues such as asthma, cancer, diabetes, sleep problems, fatigue, headaches, muscle and joint pain, brain fog, ADHD symptoms, and more. Greenwave is very proud to offer high-performance filters to significantly reduce dirty electricity in places where people live, learn, and work."



Designed by an international leader in EMI filtration, Greenwave's Spectrum 2500i targets a broad range of EMI, including both low and high frequencies. Its advanced 3-prong, grounded, multi-capacitor design enables the filter to directly reduce EMI traveling along all wires in a building, including the ground wire.



The Spectrum 2500i includes innovative "plug-through" technology, a feature offered in North America only by Greenwave. Each filter has a built-in outlet at its base for convenient access to electricity while the filter is operating. Electronics and other devices can be plugged into Greenwave filters to connect with the power they need to run.



The Spectrum 2500i exceeds key safety and environmental standards. It is UL approved and the only plug-in EMI filter to be RoHS compliant. RoHS certification ensures Greenwave filters are free of toxic substances such as lead, mercury, cadmium, and phthalates.



Safe and effective, the Spectrum 2500i is also the most attractive option available. Its sleek external casing and neutral color palette help it blend more seamlessly into living and work environments than other brands of dirty electricity filters.



For more information or to purchase Greenwave Spectrum 2500i Filters, visit www.greenwavefilters.com. A free online assessment is available for estimating the number of filters needed.



ABOUT GREENWAVE

Greenwave International specializes in EMI measurement and protection. Greenwave's mission is to reduce dirty electricity in buildings, creating healthier living and work environments.



CONTACT: 1-800-506-6098, info@greenwavefilters.com

More from Electrical Equipment & Systems