Emerson to Digitally Automate 330-MW Unit at One of Romania's Largest Power Plants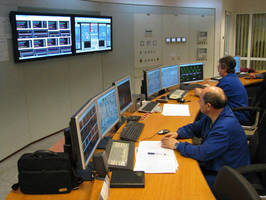 Emerson's PlantWeb® digital plant architecture with Ovation®control system and SmartProcess® optimization technology to help Rovinari Unit 6 enhance efficiency, and comply with new environmental regulations within the European Union

PITTSBURGH, PA (Dec. 16, 2008) -Emerson Process Management announced today it has been selected by Complexul Energetic Rovinari to apply its Plantweb® digital plant architecture to Unit 6 of its Rovinari Power Plant. Rovinari is comprised of four 330-MW units, as well as two 200-MW units that are in cold reserve. This coal-fired plant is the second-largest power generating facility in Romania, providing electricity to homes and businesses throughout the country.

The contract calls for replacement of outdated controls with Emerson's Ovation®expert control system on the 330-MW unit. The Ovation system, which was designed and built specifically for the power generation industry, will monitor and control the boiler and balance-of-plant processes, as well as the coal handling and water treatment plants. It will also interface to the existing turbine controls. Emerson will supply a total of 11 Ovation redundant controllers that will manage approximately 10,500 I/O points.

Emerson's Ovation system will also control the flue gas desulphurization (FGD) system, as well as the slug and slurry processes under two separately awarded contracts.

In addition, the comprehensive PlantWeb automation solution for Rovinari includes Emerson's AMS® Suite predictive maintenance software; Rosemount® instrumentation, including magmeters and temperature and analytical transmitters; and SmartProcess® optimization technologies.

At Rovinari, the SmartProcess Steam Temperature optimization solution, seamlessly embedded within the company's Ovation expert control system, will develop a boiler steam process model that accurately reflects the numerous interrelationships of various combustion processes, providing for stable, accurate and cost-effective power generation. Rovinari Unit 6 will also utilize the SmartProcess Global Performance Advisor to track performance of major plant equipment over time and identify deviations from design specifications.

The modernization of Unit 6 is expected to be completed by early 2010. Beyond this near-term project, Rovinari may expand its use of SmartProcess optimization technologies to optimize its entire fleet of generating units. Furthermore, Rovinari may connect its two modernized units (units 3 and 6) to a single dispatch center using Emerson's Ovation SCADA solution. After this is accomplished, Ovation SCADA technology may then be utilized to directly connect this central dispatch center with Romania's National Dispatch Center.

This is not Complexul Energetic Rovinari's first experience working with Emerson, according to Catirlea Melenie, I&C chief engineer for the utility. "Rovinari Unit 3 utilizes the Ovation system, and this played an important role in our selection of Emerson for the Unit 6 modernization project," said Melenie. "We were already familiar with Emerson's automation and control technologies and had confidence in their ability to meet all of the necessary specifications this project."

"We're pleased to continue our relationship with Complexul Energetic Rovinari," said Bob Yeager, president of the Power & Water Solutions division of Emerson. "Their continued confidence in our people and technologies confirms that we are succeeding at one or our top priorities - being the automation supplier of choice to the power generation industry."

About Emerson Process Management

Emerson Process Management (www.emersonprocess.com), an Emerson business, is a leader in helping businesses automate their production, processing and distribution in the power, water and wastewater treatment, metals and mining, chemical, oil and gas, refining, pulp and paper, food and beverage, pharmaceutical, and other industries.

Emerson's Power & Water Solutions division (emersonprocess-powerwater.com), is a global supplier of advanced distributed process control and information systems. The Pittsburgh-based company is a recognized leader in developing plant-wide process control solutions for the power generation, water treatment and wastewater industries. Power & Water Solutions plays a key role in the Emerson mission of combining superior products and technology with industry-specific engineering, consulting, project management and maintenance services.

Emerson brands include PlantWeb®, Ovation®, Scenario®, SmartProcess®, Fisher®, Micro Motion®, Rosemount®, Daniel®, Bristol®, ControlWave®, DeltaV(TM), and AMS® Suite.

About Emerson

Emerson (NYSE: EMR), based in St. Louis, Missouri (USA), is a global leader in bringing technology and engineering together to create innovative solutions for customers through its network power, process management, industrial automation, climate technologies, and appliance and tools businesses. Sales in fiscal 2008 were $24.8 billion. For more information, www.Emerson.com.

Ovation, Scenario, SureService, SmartProcess, PlantWeb, Fisher, Micro Motion, Rosemount, Daniel, Bristol, DeltaV and AMS are marks owned by one of the Emerson Process Management legal entities. Other marks are the property of their respective owners.