Emerson's Safety Technologies to be Used in Tank Overspill Protection Systems for BP Oil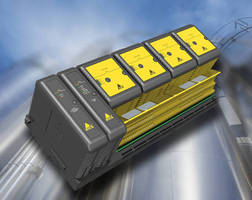 Emerson's DeltaV(TM) SIS (Safety Instrumented System) to be used at fuel storage and distribution sites across the UK

Emerson's DeltaV SIS (safety instrumented systems) to be used at BP Oil fuel storage and distribution sites in the UK.

BP Oil specifies Emerson's safety technologies for tank overspill protection systems.

Emerson Process Management grants accredited media full permission to reproduce these images according to the following guidelines. Images cannot be used to promote or sell any product or technology, nor can they be used in advertising or in brochures or other sales materials. We understand that you will give our company a credit line as follows: "Courtesy of Emerson Process Management."

AUSTIN, TEXAS (December 18, 2008) - Emerson Process Management has won a contract to install its DeltaV(TM) SIS safety instrumented system at fuel storage and distribution sites operated by BP Oil across the UK. BP Oil selected DeltaV SIS following an evaluation of the available technologies by Trident Engineering Consultants based in Glasgow. The first system will be delivered to BP's oil terminal at Hemel Hempstead, followed by further sites around the UK.

"We have chosen Emerson to deliver these systems because of the flexibility offered by the DeltaV SIS platform and the service and support that is available through Emerson's network of global resources," said Matt Atkinson, Project Manager for BP Oil. "We also have the reassurance of knowing that these systems have been proven at many other critical installations worldwide."

The Tank Overspill Protection Systems are designed to enhance existing safety measures, guarding against the potential hazards that would result from a storage tank being overfilled. Based on Emerson's DeltaV SIS, the Tank Overspill Protection Systems will monitor the tank level and automatically shut off the feed to the tanks if the level reaches the high cut off limit.

Working closely with Trident Engineering Consultants Ltd. for the Hemel Hempstead project, and TAS Engineering Consultants Ltd for the follow-on projects, Emerson's Safety Systems Engineers will design, configure, install and test the safety instrumented systems. This work will be completed in accordance with Emerson's own safety management systems, which are certified for compliance with the requirements of IEC61511 - the international standard for safety related systems in the process industries.

"We are delighted that BP Oil has chosen our class leading DeltaV SIS for the Tank Overspill Protection Systems at installations across the UK," said David Dunbar, European President, Emerson Process Management. "DeltaV SIS delivers both improved safety and increased availability and makes it easier to meet the requirements of IEC 61511."

Emerson's DeltaV SIS is the world's first smart safety instrumented system. It uses the predictive diagnostics to monitor the whole safety loop, and not just the logic solver to make installations safer and more productive. Its design reflects the fact that more than 85% of safety faults occur in field instruments or final control elements. The logic solver communicates with intelligent devices via the HART protocol to diagnose faults before they cause spurious trips. In other words, the system applies predictive intelligence to increase SIS availability.

The new technology takes into account SIS standards that insist upon separation of control and safety functions to eliminate failures that might affect both layers of protection, while answering end-users' desire for integrated configuration, maintenance, and operation.

DeltaV SIS is part of Emerson's smart SIS solution, which is an extension of the PlantWeb® digital plant architecture, providing an integrated approach to complete safety loops - from sensor to logic solver to final control element. The Emerson SIS solution enables customers to implement safer facilities, improve availability, lower life-cycle costs, and ease regulatory compliance. The smart SIS system components include Rosemount® and Micro Motion® certified and proven-in-use devices, the DeltaV SIS system, SIL-PAC(TM) final control solution with Fisher® FIELDVUE® DVC6000 SIS controller, and the AMS® Suite: Intelligent Device Manager.

To learn more about Emerson's smart SIS, go to EmersonProcess.com/SIS

About Emerson Process Management

Emerson Process Management (www.EmersonProcess.com), an Emerson business, is a leader in helping businesses automate their production, processing and distribution in the chemical, oil and gas, refining, pulp and paper, power, water and wastewater treatment, metals and mining, food and beverage, pharmaceutical and other industries. The company combines superior products and technology with industry-specific engineering, consulting, project management and maintenance services. Its brands include PlantWeb®, Fisher®, Micro Motion®, Rosemount®, Daniel®, DeltaV(TM), Ovation®, and AMS® Suite.

About Emerson

Emerson (NYSE: EMR), based in St. Louis, Missouri (USA), is a global leader in bringing technology and engineering together to create innovative solutions for customers through its network power, process management, industrial automation, climate technologies, and appliance and tools businesses. Sales in fiscal 2008 were $24.8 billion. For more information, visit www.Emerson.com.

More from Architectural & Civil Engineering Products