Emerson's Bearings feature contact angle designs.
Press Release Summary: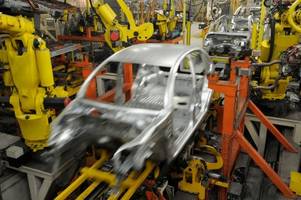 Suitable for robotic applications such as human assistance, semiconductor, medical, pick and place, Emerson's Bearings consist of Barden, FAG, IGUS, IKO, INA, GMN, DURBAL, Nachi, NTN, RBC and Torrington brands. Featuring thin sections and compatibility with clean environments, units are corrosion resistant and come in radial, angular and four-point contact.
---
Original Press Release:
Emerson Bearing Boston Expands Line of Bearings for Robotic Applications
Emerson Bearing Boston, a bearing company catering to Original Equipment Manufacturers (OEM) and Maintenance, Repair and Operations (MRO) markets around the world, has expanded their line of thin section bearings.
Lightweight, versatile, space-saving bearings
Used in a wide range of applications, from medical automation and robotics to high tech - thin section bearings have a compact, lightweight design. They are ideal for various robotic applications including human assist, pick and place, semiconductor, and medical. Since they are often used when space limitations or specific design configurations prevent the use of conventional bearings, thin section bearings allow for versatility in many applications and come in a range of contact angle designs, including radial contact, angular contact, and four-point contact.
Emerson Bearing's expanded thin section bearing line includes Barden, FAG, IGUS, IKO, INA, GMN, DURBAL, Nachi, NTN, RBC and Torrington brands.
Unlike radial ball bearings, thin section bearings' cross diameter remains the same regardless of bore size, and as such reduces system costs and streamlines overall design. High-tech applications often require custom bearings with special materials, surface coatings, or lubricants in order to meet specialized machine needs. Thin section bearings can effectively meet these types of application requirements, including very low or uniform torque, high positioning accuracy, corrosion resistance, and compatibility with very clean environments.
"Thin section bearings allow for significant space savings and overall system weight reduction - ideal advantages when designing sophisticated and critical-application products," explained Steve Katz, president of Emerson Bearing. "Emerson Bearing is able to provide the appropriate bearings in addition to customization services as needed."
Emerson Bearing offers a vast inventory and 24/7 service, which is critical to customers' operations. Among Emerson Bearing's wide range of clients is a very large manufacturer of robotic and automation equipment that serves the automotive industry, as well as the automation of the complete assembly of flat screen televisions.
About Emerson Bearing Boston
Founded in 1957, Emerson Bearing Boston specializes in bearings for OEM and MRO markets throughout the world. The company provides solutions to a variety of industries including: aggregate, concrete, mining, machine tools, electric motor repair, marine, material handling, metal processing, packaging, food processing, paper converting, printing, wind/power generation, recreation, heavy construction, robotics, automation, transportation, wood products, wastewater treatment, pump, compressor and oil field.
Emerson Bearing Boston offers customers a one-stop shopping experience. With an online product catalog with over 3 million bearings - ranging in size from 3mm to tunnel-boring 15-foot-diameter giants; a vast inventory of bearings; worldwide sourcing; a fixed price program; a knowledgeable staff; same day shipping and 24/7 service, Emerson Bearing Boston has become a leading provider of bearings in the U.S. They are the sister company of Action Bearing and maintain headquarters at 201 Brighton Ave. Boston, MA. For more information, visit www.emersonbearing.com or call 800-225-4587.
Related