Emerson Enhances AMS® Suite to Streamline Smart Wireless Deployment and Make Predictive Diagnostics More Powerful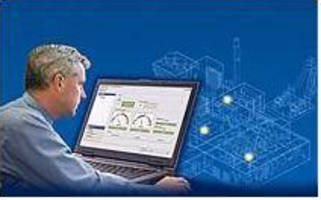 With focus on ease of use, AMS Suite delivers WirelessHART(TM) support, robust alert management, advanced diagnostics, and enhanced usability

Emerson's AMS Device Manager 10.0 can help users deploy Smart Wireless technology and access predictive diagnostics from all areas of the plant.

AUSTIN, TEXAS (February 17, 2009)- Emerson announces wireless and predictive maintenance enhancements to its industry-leading AMS® Suite asset management software that helps users optimize critical plant assets. AMS Suite: Intelligent Device Manager 10.0 features support for WirelessHART(TM) devices and networks, alert monitoring capabilities, advanced diagnostics through SNAP-ON(TM) applications, and increased ease-of-use.

Common interface for WirelessHART and wired devices. AMS Device Manager 10.0 delivers a rich set of tools to help users deploy Smart Wireless technology and access predictive diagnostics from all areas of the plant. With AMS Device Manager, users have a common interface to manage all their devices, both wired and wireless. Wireless device configuration is streamlined, and drag-and-drop functionality automates commissioning for increased efficiency and security.

Easy Smart Wireless network management. With the AMS Wireless SNAP-ON application, users can plan, customize, visualize, and manage Emerson's Smart Wireless networks. Once the wireless network is installed, the AMS Wireless SNAP-ON application also provides a comprehensive view of the network's status, enabling users to maximize reliability of the wireless network.

Enhanced management of and response to alerts. Advanced alert monitoring functionality in AMS Device Manager 10.0 allows users to better manage their predictive alerts and take targeted action. By augmenting Alert Monitor, users gain better visibility to new and existing alerts and the ability to easily filter them based on severity, location, tag, etc. When installed with DeltaV 10.3, AMS Device Manager enables users to easily access predictive diagnostics from FOUNDATION(TM) fieldbus, HART, and WirelessHART devices, bringing real-time information to plant staff for fast decision-making.

Robust diagnostic deployment and display for instruments and valves. AMS Device Manager 10.0 also delivers advanced diagnostics for instruments and valves with enhanced SNAP-ON application functionality. AMS ValveLink® 10.0 displays robust valve diagnostics delivered by Fisher® FIELDVUE® digital valve controllers, allowing users to quickly identify and troubleshoot any issues. The addition of a Scheduler to the Meter Verification SNAP-ON application allows users to schedule multiple verification tests for Micro Motion® Coriolis flow and density meters.

AMS Device Manager 10.0 shows a significant investment by Emerson in improving the ease-of-use for users. The user interface leverages the benefits of enhanced EDDL (Electronic Device Description Language) to provide simple, graphical screens that quickly deliver important information. The new user-centric design delivers unprecedented ease-of-use in asset management software.

"The release of AMS Device Manager 10.0 is the culmination of our work to make wireless device deployment and management easy," said Craig Llewellyn, president of Emerson's Asset Optimization division. "We have also made significant strides in delivering valuable predictive diagnostics and alert management functionality in the most graphical, easy-to-understand presentation in the market. We strive to give our users the most insightful information on their critical plant assets so they can operate with confidence."

Operators and maintenance personnel rely on predictive diagnostics to make fast, informed decisions. Through AMS Suite and the PlantWeb digital plant architecture, users can improve efficiency and plant performance to achieve business goals.

About Emerson Process Management

Emerson Process Management (www.emersonprocess.com), an Emerson business, is a leader in helping businesses automate their production, processing and distribution in the chemical, oil and gas, refining, pulp and paper, power, food and beverage, pharmaceutical and other industries. Asset Optimization, (www.assetweb.com), a division of Emerson Process Management, is a leading worldwide supplier of services and technologies to increase the availability and performance of production assets for improved bottom line results. Asset Optimization plays a key role in Emerson's mission of combining superior products and technology with industry-specific engineering, consulting, project management and maintenance services to help customers achieve the potential of their operations. Emerson brands include PlantWeb®, Machinery Health®, AMS® Suite, CSI, Fisher®, Micro Motion®, Rosemount®, Daniel, DeltaV(TM), and Ovation®.

About Emerson

Emerson (NYSE: EMR), based in St. Louis, Missouri (USA), is a global leader in bringing technology and engineering together to create innovative solutions for customers through its network power, process management, industrial automation, climate technologies, and appliance and tools businesses. Sales in fiscal 2008 were $24.8 billion. For more information, visit www.Emerson.com.