Emergency Preparedness Kits provide basic survival supplies.
Press Release Summary: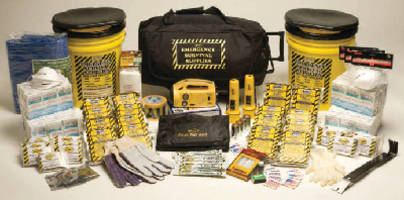 Deluxe Emergency 5-, 10-, and 20-Person Kits help protect employees by providing essential items needed during unexpected emergency situations in factories, offices, schools, and public places. Each includes basic survival supplies, including food, water, and first aid. Specific examples include blankets/tarp, germicidal tablets, AM/FM solar radio, and port-a-pottie. Other components include waterproof matches, toilet chemicals, and pry bar.
---
Original Press Release:

Group Emergency Preparedness Kits



Branford, CT

Protect your employees during unexpected emergencies with Seton Identification Product's three new Group Emergency Preparedness Kits. These kits offer essential items for emergency situations in factories, offices, schools and public places.

The kits have been developed to provide basic survival supplies, including food, water and first aid, in emergency situations.

Deluxe Emergency 5 Person Kit includes:

5 - 2400 Cal Food Ration

5 - 25oz. Water Packs

5 - Solar Blankets

1 - 8' x 10' Blue Tarp

1 - Leather Work Gloves (pair)

50 - Germicidal Tablets

12 - Toilet Liners

5 - Wet Naps

50 - Waterproof Matches

1 - AM/FM Solar Radio

4 - 12 Hour Light Sticks

1 - 123 piece First Aid Kit

1 - 5 pack of Candles

2 - Latex Gloves (pair)

1 - Toilet Chemicals

5 - Dust Masks

1 - Port-a-Pottie

Deluxe Emergency 10-Person Kit includes:

10 - 2400 Cal Food Ration

10 - 25oz. Water Packs

10 - Solar Blankets

1 - 8' x 10' Blue Tarp

2 - Work Gloves (pair)

50 - Germicidal Tablets

12 - Toilet Liners

10 - Wet Naps

50 - Waterproof Matches

1 - AM/FM Solar Radio

6 - 12 Hour Light Sticks

1 - 123 piece First Aid Kit

1 - 5 pack of Candles

5 - Latex Gloves (pair)

1 - Toilet Chemicals

1 - 15" Pry Bar

1 - "D" Cell Flashlight

2 - Alkaline Batteries

1 - 300' Caution Tape

10 - Dust Masks

2 -Port-a-Potties

Deluxe Emergency 20 Person Kit includes:

20 - 2400 Cal Food Ration

20 - 25oz. Water Packs

20 - Solar Blankets

1 - 8' x 10' Blue Tarp

2 - Work Gloves (pair)

50 - Germicidal Tablets

12 - Toilet Liners

20 - Wet Naps

50 - Waterproof Matches

1 - AM/FM Solar Radio

6 - 12 Hour Light Sticks

1 - 123 piece First Aid Kit

1 - 5 pack of Candles

10 - Latex Gloves (pair)

2 - Toilet Chemicals

1 - 15" Pry Bar

2 - "D" Cell Flashlight

4 - Alkaline Batteries

1 - 300' Caution Tape

20 - Dust Masks

2 - Port-a-Potties

1 - Duffle Bag on Wheels

Seton offers hundreds of other Emergency related products including first aid kits, eye and skin wash stations, evacuation planning materials and training kits, signs, alarms, megaphones, and more.

To order these and other related products, go to seton.com/seton/spacecode/LC1/0.html?newSearchTerms=group%20emergency%20kit or call 800-442-5317.

Seton is an international manufacturer of over 50,000 safety and facility identification products for manufacturing, construction, healthcare, education, municipal, telecommunication, electrical, and other markets.

Contact:
Jeff Lublin, Market Manager
USA
Phone: 203-488-8059 ext 834909
Company Information:
Name: Seton Identification Products
Address: P.O. Box 819
City: Branford
State: CT
ZIP: 06405 0819
Country: USA
Phone: 800 442-5317
http://www.seton.com

More from Communication Systems & Equipment