Emergency Lift Alarm System features intuitive interface.
Press Release Summary: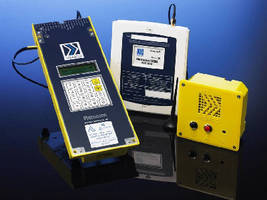 Equipped with keypad, backlit LCD, and built-in microphone, Memcom features intuitive interface in which programming relies on tick-box system and drop-down menus rather than code-based prefixes and suffixes. System includes ability to place 2 alarm calls to separate numbers in succession and end-of-alarm function built into integrated keypad. With lift monitoring section, unit can receive fault indications from lift monitoring devices and place calls to flag up these faults.
---
Original Press Release:

Memcom Emergency Lift Alarm System Now Even Easier to Program



MUMBAI, -- New Interface Makes Process Quicker and More Intuitive



Lift safety specialist TL Jones has redesigned its emergency lift alarm system Memcom to make it even easier to program. The latest version of Memcom features a new interface in which programming relies on a tick-box system and drop-down menus rather than code-based prefixes and suffixes, making programming the unit a simpler and more intuitive process. This makes Memcom the first emergency telephone on the market that can be programmed without codes or a programming tool.



Memcom features a keypad, backlit LCD display and built-in microphone to enable quick and convenient set-up. Research during product development showed that the most common cause of autodialler returns was incorrect unit programming, rather than actual hardware faults. The backlit LCD display decreases this likelihood as engineers can clearly see what they are programming into the unit, even in a dark lift shaft.



New Memcom features include the ability to place two alarm calls to separate numbers in succession, and an end-of-alarm function built into the integrated keypad. A lift monitoring section also allows the unit to receive fault indications from lift monitoring devices and place calls to flag up these faults.



Installation is straightforward, either on top of the lift car or behind the car operating panel. Unlike other diallers that need separate units for the machine room, pit and cabin, Memcom can be supplied with a single, versatile Multi-Point Station accessory.



TL Jones's MPS provides local communication between three different lift points via the same unit.



Memcom offers two easy and flexible methods for complying with EN81-28* safety regulations. Using Memcom ETR software (free of charge) and a PC, users can receive EN81-28 data directly from multiple lift installations, and maintain their own database on that PC. Additionally, the software can remotely program the diallers and receive alarm calls through the system.



*EN81-28 2004 requires that a lift emergency telephone device is checked every 3 days or less by simulating an emergency call (automatic test), and that any battery supporting the system has a minimum of 1 hour of life.



About TL Jones and Halma:

TL Jones (www.tljones.com) is a pioneer and market leader in the manufacture and sale of infrared door sensors, advanced touch-enabled car operating panels, elevator displays and emergency telephones for elevators. Established in 1927 and with its head office in Singapore, TL Jones exports product to over 50 countries worldwide. The company has offices in Singapore, Australia, New Zealand, Japan, China, India and the UAE and achieves global coverage through UK-based sister company Memco and US-based sister company Janus.



TL Jones is a subsidiary company of Halma p.l.c. (www.halma.com), an international market leader in safety, health and sensor technology. Halma is a public company listed on the London Stock Exchange and has over 3700 employees in 40 subsidiaries worldwide. Halma elevator safety companies have manufacturing facilities in Singapore, China, the UK, the USA, the Czech Republic and New Zealand.



For further news about Halma in India and to subscribe to the Halma India RSS News Feed, please visit our blog at: halmapr.com/news/india .



For more information please contact: TL Jones India Pvt. Ltd., Plot No. A-147, Road No 24, Wagle Industrial Estate, Thane West, Thane - 400 604, India

Tel: +91 22 2581 8007, Fax: +91 22 2581 8080

Email: dinesh.musalekar@tljones.com / info@tljones.com

Website: www.tljones.com

Primary Media Contact: Mr. Kuniyur J. Srinivasan, srini@halma.com, 91-22-6708 0400



Secondary Media Contact: Mr. Damian Corbet, damian.corbet@halma.com , 44-1494-789152

More from Electrical Equipment & Systems