Emergency Button with Shield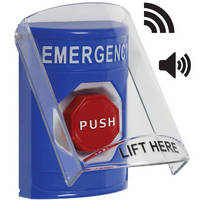 The STI Stopper® Station button with shield (SS-24B5E) can be customized for your emergency application in days. Constructed of tough polycarbonate, the unit can take hard knocks in stride. A local alarm sounds when cover is lifted, and a wireless transmission is sent to an STI receiver to acknowledge button activation.



The momentary button with supervised wireless shield helps prevent accidental activation, yet allows legitimate button use. If someone leans against the button or a child tries to push it out of curiosity, the shield helps prevent a false activation, eliminating unnecessary building interruptions. When legitimate use is required, user simply lifts the cover and pushes the button, alerting to an emergency situation. When activated, the button will perform designated action (i.e. lock school doors) and will transmit a radio signal to the STI receiver (sold separately) to notify personnel.



Stopper Stations are available in red, green, yellow, white or blue and offer customized wording in virtually any language. Polycarbonate is backed by a three year guarantee against breakage in normal use (one year on electro mechanical and electronic components). Button is UL/cUL Listed and ADA Compliant, shield is UL/cUL Listed.



For more information on STI Stopper Station with Shield (SS-24B5E), or the entire Stopper® Line, call 800-888-4784, fax 248-673-1246, email info@sti-usa.com or visit www.sti-usa.com. STI's address is: 2306 Airport Road, Waterford, MI 48327-1209.



More from Health, Medical, & Dental Supplies and Equipment