Emco Plastics Awarded ITAR Certification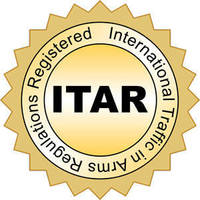 CEDAR GROVE, New Jersey — Emco Plastics, a leading plastic distributor of plastic sheet, rod, tube, and profiles, is proud to announce that they have received their International Traffic in Arms Regulations (ITAR) Registration.



ITAR is a program directed by the US Department of State, regulating the export and import of U.S. military and defense related equipment and information. Companies receiving this certification must have the knowledge and understanding to fully comply with ITAR, as well as having corporate procedures and controls in place to ensure compliance.  The ITAR Registration means that Emco Plastics is able to fully support military and defense-related projects in the United States.



Additional information on Emco Plastics' capabilities is available on our website, www.emcoplastics.com.