EMC Filters target photovoltaic installations.
Press Release Summary: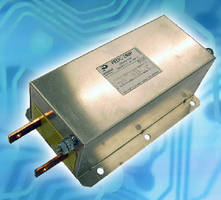 Installed between PV inverter and solar panel, FEDC Series helps meet EMC directives in grip-connected installations. Units minimize conducted emissions towards solar panel as well as EMI radiations from solar panel. Filters also maximize immunity in inverter control phase, avoiding EMI missfunction. Featuring max operational voltage of 1,200 Vdc, FEDC Series is available with ratings from 25-1,500 Adc, without terminals up to 150 Adc and screw connections up to 1,500 Adc.
---
Original Press Release:

New PREMO EMC Filters for PV Applications



PREMO launches a new EMC filter for PV installations, FEDC series, which allows EMC standards compliancy for entire PV system, prevent pre-mature panel aging and reduce installation volume.

Installed between the PV inverter and the solar panel, DC filters helps to meet EMC directives in grip-connected installations. FEDC Series have been designed to reduce conducted emissions towards the solar panel, to reduce EMI radiations from the solar panel, allowing a longer solar panel lifetime. All together, this scheme increases installation service life.

These DC filters in PV installations help increase solar panel reliability, increase immunity in the inverter control phase, avoiding any electromagnetic interference missfunction.

PREMO, an experienced manufacturer in filtering development for renewable energies applications, today offers this compact solution to solar energy systems builders, the newest FEDC series. By means of using such filters, overall installation volume is reduced, compared to other existing solution, like reactors.

FEDC Series, is available with ratings from 25Adc to 1500Adc, without terminals up to 150 Adc and screw connections up to 1500Adc. Maximum operational voltage is 1200Vdc. Moreover, they are available without filter capacitors to ground. PREMO also designs and manufactures upon request customized filters to meet customer requirements.

PREMO FEDC DC EMC filter meets EN60939, UL1283 EMC requirements and RoHS directive. Their main applications are PV installations, and they can also be used in applications where primary energy source is DC, such as fuel cells, batteries, etc.

PREMO enhances with this new series its PV and wind application oriented families, such as HCWMGF o FVDT.

PREMO EMC has a long experience in the design of filters for solar applications. This filter has been developed considering the specific requirements of this application, like attenuation, volume, weigh, prices, etc. In collaboration with development centres, universities, suppliers and customers, PREMO has added to its designs innovations and new magnetic materials which enable to obtain results to satisfy customer needs.

Premo EMC has fixed and on-site laboratories to carry out the EMC tests in machines or installations of its customers and a solution is given or suggested in order to fulfill a specific EMC standard.

PREMO encourages you to study the use of this new DC filter in new or existing designs. You can always visit PREMO website to see our EMC filter product range: www.grupopremo.com

Order this product: info@grupopremo.com

PREMO

PREMO worldwide leading company designs manufacture and supplies standard and custom made inductive components for the electronics market. Our wide range of products are RFID transponder coils, EMC filters, PLC accessories, planar transformers, current transducers, chokes, mainly for automotive, renewable energy and railways markets.

For further information you can always contact:

Communication Department:

Rocío Arrupe

Rocio.arrupe@grupopremo.com

PREMO Headquarter

Premo C/. Conchita Supervía

13 - 08028 Barcelona (Spain)

www.grupopremo.com

info@grupopremo.com

Phone number: 34 934 098 980

Fax: +34 934 906 682

More from Agricultural & Farming Products