Embedment Anchor provides alternative to hooked rebar.
Press Release Summary: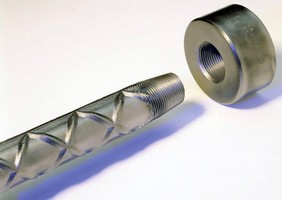 Based on Shear Cone Theory, LENTON® TERMINATOR oversized half coupler secures to end of reinforcing steel and permits rebar to be added without increasing size of component embedded in concrete. Mechanical system minimizes embedment length and facilitates installations. Able to simplify bar placement and reduce rebar congestion by 60%, product utilizes LENTON taper-threaded end and is designed for use on any type of rebar, size No. 4-18 (12-57 mm).
---
Original Press Release:
A Reliable, Economical Alternative to Hooked Rebar Anchorage
The LENTON® TERMINATOR from ERICO® is an oversized half coupler that secures to the end of reinforcing steel and efficiently replaces conventional hooked rebar. It reduces congestion, thereby facilitating easier rebar placement and lower placing costs. It also permits rebar to be added without increasing the size of the component embedded in the concrete, thus facilitating future expansion. LENTON TERMINATOR - based on the Shear Cone Theory (on which ACI-355 is based) - is a proven solution for contractors and design engineers who need a simple, reliable and economical alternative to hooked rebar anchorage. This reliable mechanical system minimizes embedment length and allows for faster installations, which reduces labor costs. It also simplifies bar placement, reduces rebar congestion by 60%, and provides greater design flexibility. LENTON TERMINATORS for ASTM A615 grade 60 and A706 rebar are ICC-ES (ICBO) recognized (#3967) and meet or exceed the ACI 318-05, UBC and IBC-03 full-tension splice requirements for Type 1 and Type 2 splices and mechanical anchorages. The LENTON TERMINATOR also meets other worldwide codes including DIN1045 and BS8110 and can be used with virtually with any type of reinforcing bar available in the world. Utilizing the time-tested field-proven LENTON taper-threaded end, this unique embedment anchor is designed for use on rebar sizes #4 (12 mm) through #18 (57 mm). The device meets Type 2 requirements and does not require special training to install. For more information or a copy of the ICC-ES report, please call 1-800-248-2677 or go to www.erico.com. ERICO® is a leading designer, manufacturer and marketer of precision-engineered specialty metal products serving global niche product markets in a diverse range of electrical, commercial and industrial construction, utility and rail applications. The company is headquartered in Solon, Ohio, USA with a network of sales locations serving more than 25 countries and with manufacturing and distribution facilities worldwide. ERICO's well-known brand names include: CADDY® fixings and fasteners; CADWELD® welded electrical connections; CRITEC® surge protection devices; ERICO® rail bonds; ERIFLEX® low-voltage components; ERITECH® lightning protection and grounding; and LENTON® mechanical rebar splices. Visit ERICO online at www.erico.com.
More from Electrical Equipment & Systems