Embedded Wi-Fi Module features serial and SPI interfaces.
Press Release Summary: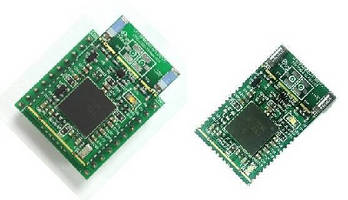 Featuring self-contained Wi-Fi subsystem, Model RW8200 integrates M3 Cortex host processor, Broadcom's BCM44362 WICED, and embedded processor. Module has UART interface with SPI interface support, enabling addition of secure, interoperable Wi-Fi functionality through serial port using basic AT command set for wireless products. Measuring 0.79 x 1.30 x 0.09 in., module operates at 3.3 V with transmit power of +18 dBm at 11 b/11 Mbps and max receive sensitivity of -96 dBm.
---
Original Press Release:

Introducing Serial & SPI Interfaces Industrial Wi-Fi Modules from Radicom Research



Featuring self-contained Wi-Fi subsystem and streamlined data accessibility with extended AT commands.



SAN JOSE, CA. – Radicom Research, a modem industry leader, announced today the release of their RW8200 Embedded Serial to Wi-Fi Modules. It integrates a M3 Cortex host processor, Broadcom's BCM44362 Wireless Internet Connectivity for Embedded Devices (WICED) and an embedded processor.



Featuring self-contained Wi-Fi subsystem and streamlined data accessibility, the RW8200 allows OEM's to incorporate wireless connectivity into a broad range of products that previously did not feature networking capability. 



The RW8200 has an UART interface with SPI interface support.  It enables the addition of secure, interoperable Wi-Fi functionality through a simple serial port using a basic AT command set for wireless products and extended commands for additional features.



The RW8200 Serial Wi-Fi Module contains Wi-Fi networking and TCP/IP stack that enables simplified Wi-Fi integration into any MCU based consumer products. It provides Wi-Fi adoption in emerging markets including Connected Home Appliances, Consumer Electronics and Cloud-based Sensors, Healthcare and Security services."  



Features:

• Interfaces: Serial and SPI

• Small size: 0.79" x 1.30" x 0.09" (20 x 33 x 2.2mm)

• USB interface available with a Serial-to-USB adapter

• 802.11 b/g/n compliant /g/n compliant

• Solutions with WLAN, MAC, base band and power amplifier

• Wi-Fi client and AP mode support

• Serial-to-Wi-Fi API interface

• RTOS & TCP/IP stack support

• Configurable through AT commands

• Wi-Fi security: WEP-128, WPA-PSK (TKIP), WPA2-PSK

• Low power 3.3V operation

• Extended operating temperature (-30°C to +85°C)

• On-board antennas or U.FL connectors

• Dual antennae for MIMO single stream operation

• Sensor applications support: ADC, DAC, I2C, GPIO

• Transmit power: +18 dBm @ 11b/11Mbps

• Maximum receive sensitivity: -96dBm

• Agency approvals: FCC, IC & CE Certifications (pending)

• RoHS compliant



Applications:

• Lighting Control

• HVAC Control

• Thermostats

• Appliances

• Medical Devices

• Glucose Monitor

• ECG/Heart Monitor

• Blood Pressure Monitor

• Fitness Equipment

• Security Cameras

• Security Alarm System

• Remote Control

• Building Automation



Pricing & Availability:

Samples of RW8200 are available now, on a first comes first served basis. The pricing starts at US $29.00 each in quantity of 1000 pieces.  Bulk discounts are available for higher OEM volume requests.



Custom Engineering:

Radicom Research's focus on embedded module-based data communications products for OEM's has resulted in a reputation for design excellence and product flexibility. Our Wi-Fi team can modify the code and re-layout any product in the family to a custom footprint and deliver working samples in only two to three weeks.



About Radicom Research:

Founded in 1993, Radicom Research develops reliable, quality, easily integrated dial-up and wireless modems at competitive prices. Headquartered in San Jose, California with offshore manufacturing capabilities, Radicom specializes in designing and manufacturing embedded modem modules for OEM, including design modifications and custom products to meet specific requirements and unique needs.



OEMS and product designers are invited to contact Radicom Research for consultation and assistance in implementing Radicom's embedded modem modules to efficiently meet their system applications.



Phone: 1-408-383-9006, ext. 112

Fax: 1-408-383-9007

Email: sales@radi.com