Embedded Telematics System meets military, rail specifications.
Press Release Summary: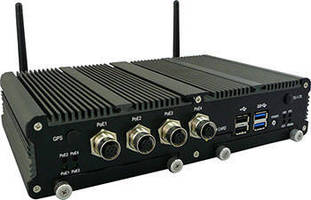 Powered by 5th generation Intel® Core™ CPU, PCS-8311P operates from -40 to +70°C and features 4 IEEE802.3af PoE interfaces with M12 connector capable of delivering up to 15.4 W/port. In-vehicle telematics system, designed to meet MIL-STD-810F, EN50121, and EN50155, support up to 3 wireless modules – LTE, 3.5G (with SIM card), WLAN, GPS Dead Reckoning, GSM/GPRS, and Bluetooth – and accepts 9–36 Vdc input. Rich COM ports and dual hot-swappable SATA storage support is also standard.
---
Original Press Release:

Portwell Announces Embedded Telematics System with 5th Generation Intel Core Processor with 4x PoE



New PCS-8311P telematics system is designed with EN50155 certification for railway applications



FREMONT, CALIF. – American Portwell Technology, Inc., (http://www.portwell.com) announces PCS-8311P, a revolutionary embedded in-vehicle telematics system centered around a 5th generation Intel® Core™ processor with 4x Power over Ethernet (PoE) interfaces with M12 connector. Portwell's new PCS-8311P features wireless support for LTE, 3.5G (with SIM card), WLAN, GPS Dead Reckoning, GSM/GPRS and Bluetooth. The embedded telematics system supports 4x IEEE802.3af PoE interfaces, providing up to 15.4W per port with M12 connector. Additional features include: wide operating temperature range support, -40°~70°C, for harsh environment applications; wide range of DC power input from 9V to 36V; power management via smarter power ignition control; rich COM ports; dual hot-swappable SATA storage; and support for optional 1x CAN 2.0B. PCS-8311P is designed to meet MIL-STD-810F, EN50121 standards and EN50155 certification for railway applications.



PCS-8311P is the ideal solution for applications such as in-vehicle infotainment, digital signage as well as mobile communication and navigation for commercial and municipal vehicles, such as buses, trucks, taxis, police cars and other fleet vehicles. It is also a perfect solution for in-bus and on-the-train surveillance systems, and fleet dispatch and remote management.



Smarter and More Flexible

According to Scott Chen, project manager at American Portwell Technology, the feature-rich PCS-8311P can not only support up to 3 wireless modules, but also provides smarter power ignition control and short circuit protection via auto recovery function. "Its excellent wireless communication capabilities enable flexible data transmission options," says Chen, "while it has a wide-voltage feed that imbues power input selection with greater flexibility and security."



"In addition," Chen continues, "PCS-8311P is housed in a well-protected enclosure that enables the system to operate effectively and efficiently in harsh environments, while its rich COM I/O interfaces help our customers retain their investment in legacy devices and equipment. All-in-all," Chen confirms, "our new PCS-8311P embedded telematics system, powered by 5th generation Intel Core processor and designed with EN50155 certification, is ideal for railway industry and broad in-vehicle applications."



Product details:

PCS-8311P embedded telematics system: http://www.portwell.com/products/detail.php?CUSTCHAR1=PCS-8311P.



Product availability:

In addition to American Portwell Technology, Inc., the Portwell PCS-8311P embedded telematics system is also available through Arrow Electronics, Inc. and Avnet, Inc.



About American Portwell Technology

American Portwell Technology, Inc., is a world-leading innovator in the Industrial and Embedded Computing market and a Premier member of the Intel® IoT Solutions Alliance. American Portwell designs, manufactures and markets a complete range of telematics solutions, embedded computer boards and systems, and rackmount systems for both OEMs and ODMs. American Portwell is an ISO 9001:2008, ISO 13485:2003, ISO 14001:2004 and TL 9000 certified company. The company is located in Fremont, California. For more information about American Portwell's extensive turnkey solutions and private-label branding service, call 1-877-APT-8899, email info@portwell.com or visit us at http://www.portwell.com.



Intel and Core are registered trademarks of Intel Corporation in the United States and other countries. All other products and company names referred to herein may be trademarks or registered trademarks of their respective companies or mark holders.



Media Contact:

Susan Wei

Marketing Executive

American Portwell Technology, Inc.

510-403-3354

susanw@portwell.com



Product Contact:

Scott Chen

Project Manager

American Portwell Technology, Inc.

510-403-3346

scottc@portwell.com

Related