Embedded PC can be used as EtherCAT master.
Press Release Summary: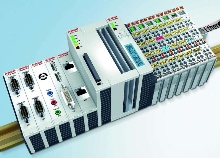 Featuring direct connection for EtherCAT I/O terminals, CX1020 provides industrial PC performance at modular I/O level as compact controller mounted on DIN rail. It features 600 MHz Intel Celeron M CPU and uses Compact Flash as its boot and memory medium. When EtherCAT is used as fieldbus, product can achieve response times of less than 1 msec. PC controls up to 256 axes and can program up to 4 virtual IEC 61131 CPUs with up to 4 tasks each and min cycle time of 50 µsec.
---
Original Press Release:
Beckhoff Introduces Next Generation of Embedded PCs with the New CX1020

Powerful, DIN rail-mountable embedded PC can be used as EtherCAT master for sub-millisecond response times

MINNEAPOLIS, August 11, 2005 - High performance in an ultra-compact design - the CX1020 is the newest entry into the family of Beckhoff Embedded PCs. In addition to CPU performance that is several times more powerful than that of previous CX controller models, the CX1020 features a direct connection for EtherCAT I/O Terminals.

Beckhoff Embedded PCs provide Industrial PC performance at the modular I/O level as a compact controller mounted on DIN rail. Compared to the CX1000 with 266 MHz AMD Geode processor, the CX1020 boasts a 600 MHz Intel Celeron M CPU. The CX1020 also requires no rotating media through the use of Compact Flash as its boot and memory medium.

Optimized for use with EtherCAT

While not a required fieldbus, the CX1020 was developed for optimum performance with EtherCAT. When EtherCAT is used as the fieldbus, the CX1020 can achieve response times of less than one millisecond. However, the same master and slave components from the popular CX1000 line can be used - including those for Profibus, DeviceNet, CANopen, Lightbus and SERCOS interface.

The Beckhoff EtherCAT I/O Terminals are connected via the new, multi-functional CX1100-0004 power supply unit. Additional EtherCAT devices can be connected via the E-bus extension terminal. EtherCAT performance, in combination with the faster CX1020 CPU, opens up new application possibilities: For example, a PLC task from the CX1020 with a cycle time of 100 microseconds can update every I/O point, every cycle.

PLC, Motion Control, interpolation and visualization

In conjunction with TwinCAT software from Beckhoff, the CX1020 offers the same functionality as large Industrial PCs. In terms of PLC control, up to four virtual IEC 61131 CPUs can be programmed with up to four tasks each and with a minimum cycle time of 50 microseconds.

Moreover, all TwinCAT functionalities are available for motion control applications - up to 256 axes can be controlled. In addition to simple point-to-point movements, more complex multi-axis functions such as "electronic gearbox," "cam plates" and "flying saw" can be implemented.

The CX1020 can also execute interpolating 3D path movements and DIN66025 programs. Suitable operating systems for the CX1020 are Microsoft Windows CE or Windows XP Embedded.

Familiar, modular design

Like all Embedded PCs from the CX controller series, the CX1020 was designed as a modular concept, featuring components that can be ordered separately to suit unique application requirements. In its basic configuration, the CPU module features two Ethernet ports with integrated 3-port switch that can be used for setting up a line topology with several controllers. Optionally, additional system interfaces such as DVI/USB, audio and up to four RS232 or RS422/RS485 interfaces can be added to the controller.

Beckhoff Automation provides advanced, open automation products based upon proven technologies so that customers can implement high performance control systems faster and at a lower overall cost than traditional PLC and motion control systems. Beckhoff's "New Automation Technology" product range includes PC based control, industrial PCs, automation controllers, operator interface, I/O, servo drives and motors. With representation in 50 countries, Beckhoff is well positioned to provide global sales and service to its customers. Sales and service are handled directly, with no intermediaries involved to provide faster response and improved communications.

Beckhoff Automation LLC

12150 Nicollet Ave. S

Burnsville, MN 55337

Phone: 952-890-0000

Fax: 952-890-2888

e-mail: beckhoff.usa@beckhoff.com

www.beckhoffautomation.com
More from Software