Embedded Operating System runs multiple OSs on multicore processors.
Press Release Summary: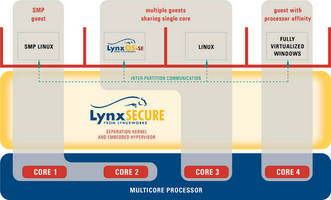 LynxSecure v4.0 separation kernel and embedded hypervisor offers symmetric multiprocessing guest OS support for Intel® Core(TM) i7 and i5 processors. Suited for single- and multi-core processors, standards-based, multidomain computational platform provides security and allows legacy applications to run unmodified. It also has built-in virtual networking for Windows applications and Luminosity v4.7 IDE with support for program's hypervisor kernel images.
---
Original Press Release:

LynuxWorks Announces LynxSecure 4.0 - the Most Feature-Rich Secure Separation Kernel and Embedded Hypervisor



LynxSecure 4.0 introduces symmetric multiprocessing guest operating system support, offering new performance highs when running multiple guest operating systems on the new multicore Intel® Core(TM) i7 and i5 processors

SAN JOSE, CA, Embedded Systems Conference - LynuxWorks(TM), Inc., a world leader in the embedded software market, today announced availability of LynxSecure 4.0, its embedded virtualization solution for single and multicore processors. This new release of the award-winning LynxSecure separation kernel and embedded hypervisor adds support for the Intel® Core(TM) i7 and i5 processor families and enables new configurations of guest operating systems to maximize the usage of these powerful processors. The combination of LynxSecure 4.0 and the Intel Core i7 will provide embedded developers across many industries the performance and security enhancements they require for their next generation of products.

Widely used to develop applications in major military programs to the highest levels of security, LynxSecure's highly secure virtualization solution is equally applicable for industries such as networking, consumer, industrial, medical and automotive. LynxSecure makes it possible to safely run multiple applications and different guest operating systems on a single platform by isolating them into separate partitions to prevent unintended or dangerous software interactions. Using multicore processors, LynxSecure provides the ability to consolidate two normally physically separate systems into one unit. This allows for a huge savings in costs, system maintenance and footprint space. It also opens the door for innovative new devices that leverage multiple operating systems and reduce complexity.

"The use of a separation kernel to achieve virtualization provides a versatile platform for legacy code preservation and migration, hardware consolidation, system resource management and sharing. Still, probably the greatest benefit conferred by virtualization on embedded systems design is in the area of security," said John Rushby, PhD, program director in the Computer Science Laboratory of SRI International in Menlo Park, CA, who originally introduced the concept of the separation kernel.

Arun Subbarao, VP of Engineering at LynuxWorks added, "LynxSecure 4.0 employs a range of security and trustworthy computing capabilities to achieve optimal protection and safety while offering a huge degree of flexibility in its system configuration. We are fortunate to have advisors like John Rushby and his team at SRI to help us build what we believe to be the best secure separation kernel available today."

For defense applications requiring the highest levels of security, LynxSecure provides a standards-based, secure, multi-domain computational platform that serves as a trusted foundation for applications with low-, medium- and high-assurance requirements that are all running concurrently on a single system. LynxSecure was designed from the ground-up to be evaluated at the highest levels of Common Criteria evaluation. It also allows legacy applications to run unmodified, enabling systems to be modernized with increased information sharing and security.

"Unleashing the power of multicore and virtualization technologies, LynxSecure offers an exciting new way for manufacturers to develop their next-generation applications. It is now possible to rapidly create new highly integrated platforms that provide more processing power and unprecedented security at a lower cost and reduced footprint," said Gurjot Singh, CEO at LynuxWorks. "With the introduction of LynxSecure 4.0 we have a product that is unparalleled in feature set and performance, and the multiple awards that LynxSecure has received over the last year demonstrate that industry experts agree."

LynxSecure 4.0 gives developers the ability to run virtualized guest operating systems either para-virtualized, such as Linux or the LynxOS RTOS for ultimate performance, or fully virtualized and unmodified, like the Microsoft Windows operating system for complete compatibility. When using multicore processors, these virtualized guest operating systems can share a single core, be given dedicated access to a core, or new in version 4.0, the ability for a guest operating system to run in symmetric multiprocessing (SMP) mode and across multiple cores.

Taking advantage of the hardware virtualization capabilities of the Intel® Core(TM) i7, LynxSecure offers the ability to run guest operating systems at near-native performance. It enables an unmodified operating system such as Windows to run at much higher performance than other solutions that rely on the traditional emulation layer approach. LynxSecure also offers built-in virtual networking, allowing Windows applications to seamlessly communicate via TCP/IP with other virtualized operating system, such as Linux, running in a separate partition. This rapid and secure inter-partition communication is handled entirely by LynxSecure without modifying the applications or the virtualized operating system.

LynxSecure 4.0 also features the latest version of the Luminosity Integrated Development Envorinment (IDE). The Luminosity 4.7 IDE for LynxSecure 4.0 offers powerful development, debug, and analysis tools integrated into an industry standard Eclipse-based framework for maximum interoperability. Luminosity 4.7 adds full support for developing LynxSecure 4.0 hypervisor kernel images along with a wide variety of guest operating systems. Luminosity 4.7 provides a fast and easy way to configure the LynxSecure Hypervisor, assign devices to specific subjects such as the LynxOS-SE RTOS and Linux and Windows operating systems, and build the downloadable image. Luminosity can then download and boot LynxSecure 4.0 and it's guest operating systems and then debug applications running on the subjects. Luminosity offers a set of Wizards that take new users through the configuration process using a new "autoconfiguration" utility that runs on the target.

LynxSecure 4.0 Availability

Like all LynuxWorks operating systems, LynxSecure is based on open standards. LynxSecure 4.0 provides a seamless migration path for LynuxWorks customers whose Linux- and POSIX®-based applications can now run on virtualized Red Hat Linux and LynxOS family environments within LynxSecure partitions. LynxSecure 4.0 will be available in May 2010.

About LynuxWorks

LynuxWorks, a world leader in the embedded software market, is committed to providing open and reliable real-time operating systems (RTOS) and software tools to embedded developers. The company's LynxOS family of operating systems offers open standards with the highest level of safety and security features, enabling many mission-critical systems in defense, avionics and other industries. The latest product in the portfolio, the award winning LynxSecure offers a secure separation kernel and embedded hypervisor that forms a platform for the development of high assurance systems. Since it was established in 1988, LynuxWorks has created technology that has been successfully deployed in thousands of designs and millions of products made by leading communications, avionics, aerospace/defense, and consumer electronics companies. LynuxWorks' headquarters are located in San Jose, CA. For more information, visit www.lynuxworks.com.

LynuxWorks is a trademark and LynxOS is a registered trademark of LynuxWorks, Inc. Linux is a registered trademark of Linus Torvalds. Other brand or product names are registered trademarks or trademarks of the respective holders.

More from Optics & Photonics