Embedded Motherboard supports up to 32 GB DDR3 RAM.
Press Release Summary: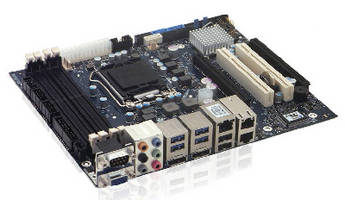 Based on 3rd generation Intel Core processors up to 3.8 GHz, Flex-ATX KTQ77/Flex includes connections for 2x DisplayPort, 1x CRT, and LVDS. Numerous storage media can be connected via 6x SATA interfaces with RAID 0/1/5/10 functionality and mSATA socket for on-board SSD. With support for DirectX 11, OpenGL 3.1, and OpenCL 1.1, developers can use APIs to accelerate software application design. Additional connectivity includes PCI Express x16, 2x PCI slots, 4x USB 3.0, 10x USB 2.0, and 3x GbE-LAN.
---
Original Press Release:

New Kontron Embedded Motherboard Supports 3rd Generation Intel Core Processors



High-quality Kontron Flex-ATX embedded motherboard now available with best-in-class performance

Eching, Germany, - Today, Kontron has announced its new embedded motherboard, the Kontron Flex-ATX KTQ77/Flex, built on the 3rd generation Intel Core processors. With long-term availability, up to 20% enhanced computing power, 50% more graphics performance and up to 40% overall increased performance per watt compared to designs based on the 2nd Generation Intel Core processors, it is Kontron's highest performing ATX-compliant embedded motherboard to date. Combined with comprehensive connectivity and the latest serial I/O performance including PCIe 3.0, USB 3.0 plus parallel expansion ports such as PCI, it is the ideal platform for upgrading existing designs and developing new applications in nearly all vertical markets.

The feature-packed Kontron KTQ77/Flex provides OEMs and developers everything they need for their individual applications directly off the shelf. The integrated Intel Turbo Boost technology 2.0 and improved Intel AVX and SSE instruction sets provide computing-intensive high-performance applications in the industrial automation, medical and military markets increased floating point operations and vectorial calculations with reduced power consumption. For applications requiring massive parallel computing power, the new embedded motherboard supports Open CL 1.1 and offers a PCI Express 3.0 graphics port for a programmable, high-end general purpose graphics processing unit (GPGPU). For graphics-intensive applications such as gaming and digital signage, the integrated Intel HD 4000 graphics features 30% more execution units for increased graphics capabilities. OEMs and designers benefit from twice the HD media and 3D graphics performance enabling an improved user experience and stunning visuals. Even multi-screen applications with simultaneous presentation on three independent displays are possible without the need for a dedicated graphics controller. Moreover, with 2x DisplayPort, 1x CRT and LVDS, the new embedded motherboard offers ample possibilities to connect all industry-relevant monitor types. With support for DirectX 11, OpenGL 3.1 and OpenCL 1.1 developers can now also use the latest APIs to accelerate their software application design. Finally, the embedded feature connector which is implemented, supporting up to 160 GPIO, analog-to-digital converter (ADC) and digital-to-analog converter (DAC), minimizes the need for individual I/O boards and thus reduces the bill of material and development time.

The features in detail:

The Kontron Flex-ATX embedded motherboard KTQ77/Flex is based on the 3rd generation Intel Core processors and offers an extremely broad performance range with up to 3.8 GHz and a maximum of 32 GB DDR3 RAM. Connections for video include 2x DisplayPort, 1x CRT and LVDS. For expansion cards it features 1x PCI Express x16 and 2x PCI slots. 4x USB 3.0, 10x USB 2.0, and 3x GbE-LAN allowing for extensive peripheral and networking options. In addition, with Intel AMT 8.0, the embedded motherboard simplifies maintenance, for higher system availability and lower overall costs. Numerous storage media can be connected via the 6x SATA interfaces (4x SATA150/300 and 2x SATA600) with RAID 0/1/5/10 functionality and the mSATA (mini-SATA) socket for state-of-the-art on-board SSD. HD audio and the Trusted Platform Module 1.2 for safety-related applications top off the feature-set of the new motherboards.

Common to all Kontron embedded motherboards is their long term availability of 7 years as well as an outstanding long-term stability and reliability due to the careful selection of high-quality components. Operating system support is provided for Windows 7, Windows Vista, Windows XP, Windows Embedded Standard 7, VxWorks, as well as Linux (Red Hat Enterprise, Novell SuSE Linux Enterprise, Red Flag Linux and Wind River Linux, among others).

More information on the Kontron Flex-ATX embedded motherboard KTQ77/Flex at:
http://www.kontron.com/products/boards+and+mezzanines/embedded+motherboards/flexatx++microatx+motherboards/ktq77flex.html

More information on Kontron embedded motherboards at:
http://www.kontron.com/products/boards+and+mezzanines/embedded+motherboards/

About Kontron

Kontron is a global leader in embedded computing technology. With more than 40% of its employees in Research and Development, Kontron creates many of the standards that drive the world's embedded computing platforms. Kontron's product longevity, local engineering and support, and value-added services, helps create a sustainable and viable embedded solution for OEMs and system integrators. Kontron works closely with its customers on their embedded application-ready platforms and custom solutions, enabling them to focus on their core competencies. The result is an accelerated time-to-market, reduced total-cost-of-ownership and an improved overall application with leading-edge, highly-reliable embedded technology.

Kontron is listed on the German TecDAX stock exchange under the symbol "KBC". For more information, please visit: www.kontron.com/

On publication, please send a voucher copy to each of the following:

EMEA

Norbert Hauser

Kontron

Tel: +49 (8341) 803-0

norbert.hauser@kontron.com

Americas

Richard Pugnier

Kontron

Tel:+1 (858) 623-3006

richard.pugnier@us.kontron.com

All rights reserved. Kontron is a trademark or registered trademark of Kontron AG. Intel® and Intel® Core(TM) are trademarks of Intel® Corporation in the US and other countries.

All other brand or product names are trademarks or registered trademarks or copyrights by their respective owners and are recognized. All data is for information purposes only and not guaranteed for legal purposes. Subject to change without notice. Information in this press release has been carefully checked and is believed to be accurate; however, no responsibility is assumed for inaccuracies.

More from Laboratory and Research Supplies and Equipment