Embedded Motherboard delivers multitask processing.
Press Release Summary: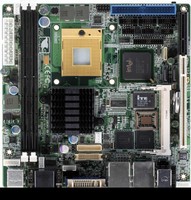 Based on Intel® 945GM+ICH7M chipset, EMB-9458T adopts Intel Core(TM) 2 Duo, Core(TM) Duo, or Celeron® M processors and deploys two 240-pin DIMM and DDRII 400/533/667 system memory up to 4 Gb. Expansion is provided via one PCI slot, 2 optional PCI-E(x1)slots, and one Mini PCI slot in addition to 4 RS-232 ports, one RS-232 TTL only/GPS port, one RS-232/422/485, 8 USB 2.0 ports, multiple DIO ports, and Type II CompactFlash storage. Dual SATA interfaces provide optional RAID 0/1 functions.
---
Original Press Release:

AAEON Announces Powerful, Multi-Task Processing with Its EMB-9458T Embedded Motherboard



Taipei Taiwan (April 02, 2008) - AAEON Technology, a leading Industrial PC manufacturer, introduces a powerful, multi-tasking Embedded Motherboard-EMB-9458T. The EMB-9458T adopts the latest Intel® Core(TM) 2 Duo (Merom)/ Core(TM) Duo/ Celeron® M (Yonah) processors and is based on Intel® 945GM+ICH7M chipset configuration for better power management and enhanced performance.

EMB-9458T deploys two 240-pin DIMM and DDRII 400/533/667 system memory up to 4GB. The LCD interface is 18-bit dual-channel LVDS TFT LCD and 2nd 24-bit dual-channel LVDS through an optional SDVO card- TF-PER-V04B, 2nd DVI through TF-PER-V03B, for multi-display capability. Moreover, EMB-9458T supports CRT/LVDS, CRT/TV, CRT/DVI, CRT/LVDS/DVI, CRT/LVDS/TV, CRT/DVI/TV, CRT/LVDS/2nd DVI or LVDS, CRT/DVI/2nd DVI or LVDS simultaneous/ dual view displays. As a multi-functional embedded motherboard, the EMB-9458T accommodates one PCI slot, two optional PCI-E〔x1〕slots, one Mini PCI slot, four RS-232 ports, one RS-232 TTL only/GPS port, one RS-232/422/485, eight USB2.0 ports, multiple Digital I/O ports, and Type II CompactFlash storage, providing versatile expansion options for diverse embedded applications.

"EMB-9458T with mobile-optimized Intel® Core(TM) 2 Duo processor is a cutting-edge embedded motherboard designed to cope with increasingly heavy loading embedded systems. This model improves the power management function, such as 'power on after power failure.' It will notify you if the system has errors to prevent data loss, " said Barnabas Chen, Product Manager of the Embedded Computing Division of AAEON Technology, Inc.

The two SATA interfaces on the EMB-9458T provide optional RAID 0 and RAID 1 functions. RAID 0 makes EMB-9458T a high performance computing PC with a compact, mini ITX motherboard size. Furthermore, the EMB-9458T is a highly reliable processing system in terms of the RAID 1 function and prevents data loss to ensure data security. In addition to the RAID 0 and RAID 1 features, the EMB-9458T has two gigabit LANs for faster network connections.

EMB-9458T targets POS (Point-of-Sale) machines, automated kiosks, medical instruments, advanced automation for buildings and homes since these applications demand multi-task processing and high performance. Although the Mini-ITX motherboard is a bit larger than Compact or Subcompact boards, the EMB-9458T a great solution to fulfill the demands of flexible expansion interfaces and various functions.

About AAEON
AAEON Technology (TAIEX: 2463), established in 1992, manufactures and markets a wide range of OEM/ODM Industrial PCs all over the world. Our commitment to our customers is to provide reliable and high quality Embedded SBCs, Operator Panels, Panel PCs, Medical PCs, Embedded Controllers, Industrial Slot PCs, PC/104 modules, Full-size CPU cards, Half-size CPU Cards and related accessories.

By maintaining ISO-9001 and ISO-14001 certifications since 1994 and 1996 respectively, AAEON ensures the commitment to delivering products of the highest quality. Becoming a publicly traded company in 2001, AAEON has demonstrated the sound fiscal policies required for good investment opportunities. AAEON continues to earn numerous citations for its remarkable contribution to the industry, including four years of Symbol of Excellence Awards and the country's Eighth Annual Outstanding Business Award. In 2003, AAEON introduced TL9000 certification to further expand their commitment to quality.

AAEON has well established, strategically positioned branches worldwide including America, the Netherlands, China and Singapore.

AAEON is a Member with the Intel Embedded Communications Alliance, a community of communications and embedded developers and solution providers.

Related