Embedded Memory Protection Unit supports DDR2 DRAM.
Press Release Summary: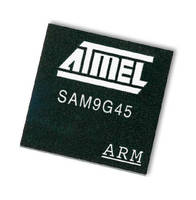 Housed in 0.8 mm ball pitch package, 400 MHz SAM9G45 ARM926 MPU offers integrated power management and slew rate control I/Os with programmable 1.8 or 3.3 V voltage levels. Chip features twin parallel EBI supporting DDR2 DRAM at 133 MHz, 480 Mbps EHCI-compliant USB Host and Device ports with on-chip transceivers, Ethernet MAC, 2 interfaces for MMC 4.3 and SDIO/SDCard 2.0, plus LCD and touch sensing. Consuming 300 µW/MHz, device is suited for data loggers, POS terminals, and alarm systems.
---
Original Press Release:

Atmel Standardizes on DDR2 for 400 MHz, High Speed-USB-enabled ARM9-based Embedded MCUs



SAM9G45 ARM9-based Embedded MPU offers 480 Mbps EHCI-compliant HS-USB with on-chip Phy, Ethernet and SDIO for high-speed connectivity, plus LCD and Touch Sensing for intelligent UIs.

San Jose, CA, July 27, 2009 - Atmel® Corporation (Nasdaq: ATML) announced today the release of the SAM9G45, the first member of a series of 400 MHz ARM926 embedded MPUs that support second generation Dual Data Rate DRAM (DDR2) and are optimized for industrial applications such as building automation, data loggers, POS terminals, alarm systems and medical equipment. Peripherals include ECHI-compliant high-speed USB with on-chip PHy, dual EBI, 10/100 Ethernet MAC, LCD and Touchscreen controller, programmable 1.8 or 3.3 V I/O supply voltage, and a high data bandwidth architecture.

DDR2 to Replace SDRAM in Embedded Applications. Jacko Wilbrink, Atmel's director of ARM® products explained, "The vast majority of ARM9-based embedded MPUs support only SDRAM memories. The problem is that memory availability is driven by the high-volume PC market and SDRAM is basically obsolete for current generation PCs. DDR2 and DDR3 offer higher memory densities, higher performance, lower cost and lower power consumption than SDRAM. That's where the market is going. In response to the current economic crisis, many memory vendors are literally shutting down their SDRAM fabs. We expect the supply of SDRAM supply dwindle in the foreseeable future. This poses a problem for our customers.

"While the minimum external bus of 300 MHz required for DDR3 is far too high for the majority of embedded MPUs," Mr. Wilbrink continued, "DDR2 is a good option for designers. We believe that DDR2 is predestined to become the memory of choice for the industrial embedded market, which is why Atmel is aggressively integrating DDR2 support in its ARM9(TM)-based MPUs. Our customers now can migrate their next designs from SDRAM to DDR2, with the AT91SAM9G45 and additional forthcoming DDR2-enabled MPUs."

Integrated power management with 1.8 or 3.3V supply voltage. Most ARM9-based MPUs were originally developed for the mobile phone market with a 1.8V supply voltage. In order to be used in industry applications, which typically run at 3.3V, they require expensive external power management ICs and level shifters. The SAM9G45 offers integrated power management, slew rate control I/Os with programmable 1.8 or 3.3V voltage levels, in a 0.8mm ball pitch package to simplify industrial control design and reduce cost.

High Connectivity and Support for intelligent UIs. With a processor clock running at 400 MHz, twin parallel External Bus Interfaces (EBI) supporting Dual Data Rate DRAM (DDR2) at 133 MHz and integrating High Speed (480 Mbps) EHCI compliant USB Host and Device Ports with on-chip transceivers, Ethernet MAC, as well as two interfaces for MMC 4.3 and SDIO/SDCard 2.0, together with an LCD controller with resistive touch screen interface CMOS camera and audio, the SAM9G45 is the ideal platform for embedded applications, that demand high-bandwidth communications, high-density data storage and modern graphical user interfaces.

Distributed Memory, DMA and Dual EBI for Optimal Data Bandwidth. The 12-layer system bus matrix is linked to the Memory Management Unit of the processor core, as well as 8 central DMA channels, 6 high-speed DMAs each dedicated to the video decoder, LCD controller, USB host and device, Ethernet MAC, and image sensor Interface, 21 Peripheral DMA (PDC) channels, dual EBI and small blocks of on chip distributed SRAM to ensure uninterrupted internal and external data flows with minimum processor overhead. The high data speedway architecture enables the SAM9G45 to perform 100Mpbs+ data transfers, user interface rendering in parallel with computationally intensive data processing.

Power Consumption. At 400 MHz and a 1.0V core supply, typical power consumption is less than 300 uW/MHz. In backup mode with the RTC and a timer running plus four 32-bit registers, the SAM9G45 consumes around 8 uA.

EHCI compliant High Speed USB Host. Data rates of even tens of Mbps are not high enough to provide the ever increasing sizes of log files and the growing sophistication of user interfaces. The 480 Mbps high-speed USB on the AT91SAM9G45 provides a well-understood, easy-to-use vehicle to handle large amounts of data and interconnection both between systems and between the printed circuit boards (PCBs) inside a system. The SAM9G45 USB Host is fully compliant to the EHCI and OHCI standards that guarantee straight forward porting of proven USB host drivers to the AT91SAM9G45.

Comprehensive Eco-system. The SAM9G45 is fully supported by the worldwide ecosystem of industry-leading suppliers of development tools, operating systems and protocol stacks, including Linux® distributions, Windows® Embedded CE, Mentor Graphics®, Fluffy Spider Technology, QNX®, Micrium®, IAR®, Keil®, Segger®, Adeneo®, and TimeSys®.

Availability and Pricing

Samples of the SAM9G45 are available now. Production is scheduled for Q4 2009, priced at US$8.60 in quantities of 10k units, under the order code AT91SAM9G45-CU.

About Atmel

Atmel is a worldwide leader in the design and manufacture of microcontrollers, advanced logic, mixed-signal, nonvolatile memory and radio frequency (RF) components. Leveraging one of the industry's broadest intellectual property (IP) technology portfolios, Atmel is able to provide the electronics industry with complete system solutions focused on consumer, industrial, security, communications, computing and automotive markets.

© 2009 Atmel Corporation. All Rights Reserved. Atmel®, Atmel logo and combinations thereof and others, are registered trademarks or trademarks of Atmel Corporation or its subsidiaries. ARM® is a registered trademark of ARM Ltd. Mentor Graphics® is a registered trademark of Mentor Graphics Corporation. Windows® is a registered trademark of Microsoft Corporation. Linux® is a registered trademark of Linus Torvalds. Other terms and product names may be trademarks of others.

Information:

Atmel's AT91SAM product information may be retrieved at: www.atmel.com/products/AT91/

A Windows CE BSP for the SAM9G45 is available from http://www.at91.com/Windows4SAM

A Linux BSP for the SAM9G45 is available from www.linux4sam.org

More from Electronic Components & Devices