Embedded IPC supports Debian desktop Linux.
Press Release Summary: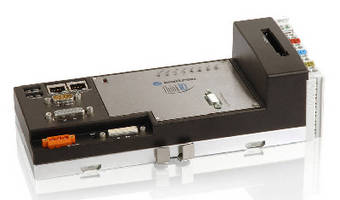 Equipped with 1.06 GHz Intel® Celeron® M processor, ThinkIO-Solo includes 1 GB RAM, up to 4 GB soldered internal flash, and 512 KB non-volatile memory. Fanless unit is housed in aluminum with Compact Flash socket for adding mass storage, standard PC interfaces, industrial Ethernet, and modular I/O interface option. Interrupt capable onboard inputs can be used to trigger rapid response to events, such as failure of external 24 V power supply when using optional 10 ms holdup module.
---
Original Press Release:

Embedded IPC with Intel® Celeron® M Processor and Desktop Linux



The Kontron ThinkIO with added hardware and software options

Eching/Hannover, Germany, − Kontron announced at the Hannover Fair today the fanless Kontron ThinkIO-Solo embedded IPC and the Debian Linux desktop distribution for the Kontron ThinkIO-Duo/-Solo.

The extremely compact (70mm deep / 35mm connector level) and maintenance free Kontron
embedded IPC ThinkIO-Solo is equipped with an Intel® Celeron® M processor clocked at 1.06 GHz, 1 GB RAM, up to 4 GB soldered internal flash and 512KB non-volatile memory.
Both the Kontron ThinkIO-Solo and ThinkIO-Duo include robust aluminium housing, compact flash socket for adding mass storage, standard PC interfaces, and field bus options including industrial Ethernet and a modular I/O interface option. The Kontron ThinkIO enables remote access and connection to a company's IT infrastructure (ERP systems and databases) while simultaneously providing control functionality at the field level. The interrupt capable onboard inputs can be used to trigger a rapid response to events, such as failure of the external 24 V power supply when using the
optional 10ms holdup module according to IEC61131-2/severity level PS2 or when traversing an end stop switch. A watchdog timer and real-time clock are also included.

Kontron also expanded the software portfolio for its long term available family of embedded IPCs. The new Debian desktop distribution, specifically tailored to the Kontron ThinkIO, includes a convenient PC interface, which enables faster development time. Along with the easy integration of existing software, the user-friendly interfaces help improve customer time to market. Powerful packetmanagement software for easy upgrading and version control is also included. The new Debian desktop distribution, in addition to Windows XP Embedded and real-time Linux cross compile
package, give customers more software options for higher flexibility.

The usage of Linux operating systems has been steadily increasing over recent years and they continue to be a popular choice for automation projects. The decisive benefits include long-term availability, and therefore know-how investment protection, stability, universal communication, visualization, and virtualization.

The fanless Kontron ThinkIO Embedded IPCs are reliable platforms, ideal for use in shock and vibration prone environments and offer a MTBF of over 22 years in the base variant. Extended temperature versions are offered and implemented on a project base. The Kontron ThinkIO Embedded IPCs offer OEM customers the benefit of reduced time-to-market since they can build upon an open platform and focus on core competences, such as application software programming and system/portfolio integration. The maintenance-free, flexible and robust design reduces the total cost of ownership for end customers.

Availability

The Kontron ThinkIO-Solo will be in series production by Q3/2010. The Linux Desktop distribution is available now.

More information about the Kontron embedded IPC ThinkIO-Solo:
http://www.kontron.com/products/systems+and+platforms/embedded+ipc++thinkio/thinkioduo.html

More information about the Kontron ThinkIO: www.kontron.com/thinkio

About Kontron

Kontron, the global leader of embedded computing technology, designs and manufactures embedded and communications standards-based, rugged COTS and custom solutions for OEMs, systems integrators, and application providers in a variety of markets. Kontron engineering and manufacturing facilities, located throughout Europe, North America, and Asia-Pacific, work together with streamlined global sales and support services to help customers reduce their time-to-market and gain a competitive advantage. Kontron's diverse product portfolio includes: boards & mezzanines, Computer-on-Modules, HMIs &
displays, systems & platforms, and rugged & custom capabilities. Kontron is a Premier member of the Intel® Embedded Alliance and has been a VDC Platinum Vendor for Embedded Computer Boards 5 years running. Kontron is listed on the German TecDAX stock exchange under the symbol "KBC". For more information, please visit: www.kontron.com

All rights reserved.

Kontron is a trademark or registered trademark of Kontron AG.

Intel and Intel Celeron are trademarks of Intel Corporation in the US and other countries.

All other brand or product names are trademarks or registered trademarks or copyrights by their respective owners and are recognized.

More from Electrical Equipment & Systems