Industrial / Specific Purpose Computers
Embedded Industrialized Thin Clients have ACP-enabled BIOS.
Press Release Summary: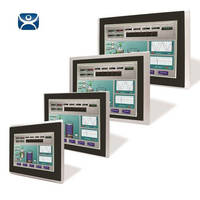 Simplifying management of applications and visual sources, Thin-Manager-ready® Compact Thin Client PCs withstand demands of food & beverage automation operations and environments while providing features and capabilities needed to centrally manage plant operations. Standard features include Intel® Celeron® N2930 processors (7.5 W), aluminum die-cast housing, and flexible connectivity/expansion. Solid-state design includes fanless construction and SSD.
---
Original Press Release:

AIS's Cost-Effective, Compact Thin Clients with ACP-Enabled BIOS Provide Centralized Solutions for Food and Beverage Automation by Simplifying Management of Applications and Visual Sources



AIS's Reliable and Powerful ThinManager-Ready® Compact Thin Client with Intel® Low-power SoCs and HD Graphics Technology for Maximum Process Control Systems Uptime, Price and Performance



IRVINE, CALIFORNIA – American Industrial Systems, Inc. (AIS) an innovator and the leader of Industrial HMIs, Touch Panel Computers, Industrial PCs (IPCs), Industrial Box PCs, Industrial DIN-Rail PCs, and Industrial Thin Clients, announces the suitability of  their new Compact Thin Clients for Food & Beverage Automation applications. The new family of Thin-Manager-ready, Compact Thin Client PCs from AIS is ACP-enabled BIOS. They are extremely compact, embedded industrialized thin client computers that provide centralized management solutions for the modern factory and office by simplifying management of applications and visual sources. AIS's new Compact Thin Client PCs incorporate Intel® Celeron® N2930 processors. This is the first single-chip family designed for data logging, monitoring, and control systems that delivers excellent processing and graphics, an integrated memory controller, high throughput, and low-power peripherals that can operate at an extended temperature range. Most notably of all, this low-powered chip is delivered in just a single 7.5-watt SoC package. These are some of the key additional features and benefits of the Intel SoC processor utilized in AIS new Compact Thin Clients:



• Intel® System-on-chip (SoC): Single die on a single package delivers the high levels of integrated functionality needed for industrial thin client designs.



• Integrated, Highly Efficient and Dedicated Image Signal Processing: Saves time-to-market and helps reduce bill of materials (BOM) cost by reducing or, in certain cases, eliminating the need to develop custom ASICs/FPGAs to perform imaging functions. Applicable usages include industrial thin client, industrial automation and control systems



• Graphics turbo capability: Delivers graphical performance throughput for demanding applications such as complex 3D drawings and imaging.



• Intel® AES-NI and Secure Boot: Hardware-assisted capabilities help secure endpoints, protect content and allow only chosen software to run on the device.



• Low Power, Small Size, and High Performance: One-chip solution helps save on bill of materials (BOM) cost and allows for smaller form factor solutions over previous-generation, two-chip offerings.



Industrialized Compact Thin Client PCs from AIS Help Food & Automation Operations Achieve Maximum Uptime and Availability of their Process Control Machinery

Standard commercially-off-the-shelf (COTS) PCs while affordable in initial purchase cost, the time, money and effort spent to maintain and replace them are why more and more Food & Beverage automation users are deploying AIS's industrialized, compact thin-client PCs in their plants and buildings. AIS's robust and rugged Compact Thin Clients stand up to the rigors and demands of food & beverage automation operations and environments, while providing the features and capabilities they need to manage their plant operations. Engineered to withstand heat, moisture, high vibration and high electromagnetic environments, they feature a lightweight, aluminum die-cast housing for a robust enclosure and offer flexible interfaces and expansion to other hardware and devices. 



Requiring a Fraction of the Time for Set-up Versus PCs, AIS's Compact Thin-Manager Ready PCs Also Reduce Maintenance Costs and Other Associated Issues with Standard PCs

AIS's Thin-Client Embedded Computers are easy to configure, install and offer nearly maintenance free operation. Fan-less construction and no moving parts with the use of Solid State Drives (SSD) mean there is less to go wrong, directly translating into higher system availability and reliability, and further into higher productivity and profit levels. AIS's ThinManager Ready Thin-Client PCs allow users to dramatically improve production efficiency while minimizing maintenance costs and efforts. AIS Compact Thin Clients can install applications once on a terminal server and deploy to many terminals on the plant floor; pre-configure a new line in advance and then setup AIS's plug and play Compact thin client PCs; connect to the terminal servers you choose and load their applications and be ready to run in a fraction of the time it would take to deploy traditional PCs.



With ThinManager 5.0 Visualization Capabilities, AIS's Compact Thin Client PCs Can Run Multiple Monitors & IP Cameras for Increased Visibility and Security in Food & Beverage Operations

This new technology available with ThinManager 5.0 allows AIS's Compact Thin Clients to support and connect to multiple devices for visualization including IP Cameras, multiple monitors and increase system security. Users can run up to 5 monitors from just one AIS Compact Thin Client PC which opens many possibilities for improved visualization and security of their control system process. For example, a food & beverage operation can view multiple production processes simultaneously, while overlaying video and screen tiling for a comprehensive state-of-the-art visualization system. AIS's ThinManager Ready, Compact Thin Clients allow unprecedented control and security in a sustainable and scalable platform for a wide range of factories, facilities and environments.



About AIS

Headquartered in Irvine, California, USA, American Industrial Systems, Inc. (AIS) offers in-house electronic and mechanical design, software development, manufacturing, production and quality control services. Offering one of the widest ranges of industrial computing solutions, AIS open platform control and monitoring solutions are available in a multitude of configurations for industrial, building automation, oil & gas, military and marine applications. The company's HMI solutions are key enabling technologies for the Internet of Things (IoT), Industrial Internet of Things, (IIoT), Machine-to-Machine Communications (M2M) and Industry 4.0 applications. AIS is fully committed to empowering, improving and delivering turnkey HMI, control, monitoring and display solutions for OEM, ODM and end-user customers. AIS is an ISO 9001:2008 certified supplier and manufacturer of rugged computers and displays, and received completion of the International Traffic in Arms Regulations (ITAR) registration from the Directorate of Defense Trade Controls (DDTC). For more information, visit: www.aispro.com, email: sales@aispro.com or contact: 1-888-485-6688.



Media Relations Contact:

American Industrial Systems, Inc.

David G. Martorana

Director Marketing & Communications

1.847.630.6487 

dynmarent@gmail.com

More from Optics & Photonics