Embedded Controllers support CoDeSys programming language.
Press Release Summary: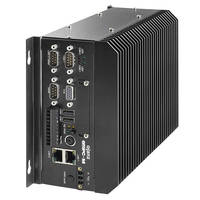 Compact and customizable Janz emPC-M series controllers support CoDeSys (Controller Development System) IEC 61131-3 open programming environment. They offer X86 processor architecture scalable from Geode LX 800 up to Core 2 Duo (1.5 GHz), and are available with Linux, Windows XP, XPEmbedded, Vista, WinCE5.0/6.0, or QNX OS. Interfaces include 2 x opto-isolated CAN/CANopen and 2 x 10/100 Mb/s Ethernet ports, 2 x CF Sockets, 1 x RS232, PS/2 for keyboard/mouse, and VGA connector.
---
Original Press Release:

CoDeSys Embedded Controllers Handle Critical Automation Tasks Quickly!



Pittsford, NY: emPC-M is a family of fan-less and maintenance-free embedded computing systems which support CoDeSys, a versatile IEC 61131-3 programming environment. emPC-M controllers are compact (9" x 6.3" x 2.8"), flexible, and customizable solutions for a wide variety of automation needs. Processor power is based on X86 architecture with scalable processor performance from Geode LX 800 up to Core2Duo (1.5GHz).

CoDeSys ("Controller Development System") is the leading hardware-independent controller system for embedded and PC-based systems (SoftPLC). Using this software/hardware combination allows an automation designer to solve time-critical automation problems quickly and efficiently using an open programming standard.

With CoDeSys runtime environment ready-to-go, emPC-M series controllers can form the heart of versatile control systems operating with a wide variety of other manufacturers' peripheral products, providing enhanced capabilities, information display, and monitoring. emPC-M controllers are available with Linux, Windows XP, XPEmbedded, Vista, WinCE5.0/6.0 or QNX operating systems (others by request), as well as having any required applications pre-loaded and configured. Industrial interfaces offered include: (2) x opto-isolated CAN/CANopen ports; 2 x 10/100 Mb/s Ethernet ports; 2 x CF Sockets; 1 x RS232; PS/2 for keyboard/mouse; VGA connector; 1 x proprietary slot for I/O modules; lockable power connector.

emPC-MCD systems are Janz embedded systems with the highest performance - yet still offer fan-less cooling. Intel CoreDuo technology with 1.66 GHz and 2 MB cache means that these systems can be used in applications where fast operation is needed and where maintenance issues must be eliminated.

Over 250 device manufacturers offer intelligent automation devices with a CoDeSys programming interface. Full interoperability and data exchange are guaranteed by CoDeSys member companies. Today, CoDeSys is the widest-spread IEC 61131-3 development tool in Europe and has established itself as the standard in controller and PLC programming.

Made in Europe by Janz AG, a leading industrial control manufacturer, emPC-M systems are available now from USA distributor Saelig Company, Inc. Pittsford, NY. www.saelig.com 1- 888-7SAELIG info@saelig.com

Contact Information

email: info@saelig.com

phone: 585-385-1750

fax: 585-385-1768

web: www.saelig.com

Saelig Company Inc

1160-D2 Pittsford-Victor Road

Pittsford

NY 14534

More from Communication Systems & Equipment