Embedded Computer meets digital signage market demands.
Press Release Summary: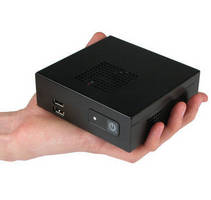 Suited for multimedia applications such as digital signage and advanced kiosks, AG960 is based on Intel® NUC form factor, employs one centrifugal side blower fan, and is powered by 1.80 GHz Intel Dual Core i3-3217U processor and QS77 chipset. System runs at under 30 W; provides Intel HD Graphics 4000, four 2.0 USB ports, and 2 HDMI ports; and can power HD video and dual displays. Embedded version has rust-protected steel case and additional front panel USB port.
---
Original Press Release:

Logic Supply Answers Demand of Digital Signage Market with an Embedded NUC



In response to customer demand for a durable, ultra-compact computer, Logic Supply, a leading provider of specialized systems for industrial and embedded applications, announces the arrival of the NUC-based LGX AG960 Core i Compact Multimedia Computer. Its flexibility, computing power and compact size makes the AG960 ideal for multimedia applications such as digital signage and advanced kiosks.



Key features:



Ultra compact - Based on the Intel NUC form factor, the system fits in the palm of your hand and allows for discreet placement in space constrained environments.



Low noise - Designed with a single centrifugal side blower fan, the system remains cool and quiet during operation.



Advanced processing - With a 1.80 GHz Intel Dual Core i3-3217U processor and the QS77 chipset, it eliminates the typical tradeoff between computer size and speed.



Energy efficient - The low TDP (Thermal Design Power) processor allows the system to run at under 30W, staying cool and ensuring stability, maximum uptime and longevity.



Multimedia Capable with Essential I/O - With Intel HD Graphics 4000, four 2.0 USB ports, two HDMI, the computer can power HD video and dual displays making it ideal for graphic-intensive applications.



Designed to be Redesigned



"The AG960 is light, simple, and was designed to be redesigned," said Rodney Hill, Product Engineer at Logic Supply. "The enclosure can be physically reconfigured so that it is easily customized and branded to fit specific requirements," Rodney said. "And because we control  the design and manufacturing we can easily manage the lifecycle and revision history."



An Embedded Version of the Popular NUC Optimized for Digital Signage and Kiosk Markets



The AG960 is based off the Intel NUC (Next Unit of Computing) form factor, but this embedded version varies from its commercial cousin in important ways.  The case is 100% metal and constructed of high-quality rust protected steel to ensure longevity and durability. The unit boasts an additional front panel USB port and user power button with a LED indicator.



"Our digital signage customers have been requesting multimedia power in a compact unit." said JP Ishaq, Product Manager at Logic Supply.  "The NUC offered many advantages and our engineering team refined the commercial system to accommodate the needs of large scale digital signage customers, making the unit more durable, discreet, and flexible with a range of mounting options."



See the LGX AG960.

See the complete Logic Supply Digital Signage product line.

View the LGX AG960 video.



About Logic Supply

Logic Supply is a specialized systems provider serving the embedded and industrial computing market. With locations in the USA, Europe, and Asia, Logic Supply provides pre-configured small form factor systems, the most comprehensive selection of compatible components, and unique computer hardware. Logic Supply offers turnkey assembly and custom OS development for Windows Embedded Standard and Linux platforms. Through LGX Systems, the company offers custom engineering services and develops innovative, rugged hardware products. Visit the Logic Supply website at www.logicsupply.com or visit the Logic Supply EU website at www.logicsupply.eu.



Logic Supply Media Contact:

Katrina VanTyne

Marketing

802 861 7443

marketing@logicsupply.com

Related