Embedded Box PC features integrated graphics accelerator.
Press Release Summary: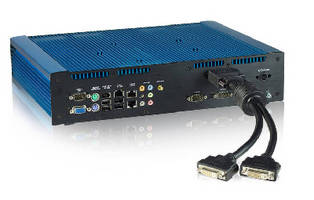 Housed in 75 x 350 x 260 mm chassis, CB 753 Dual Head provides connections for 2 digital or 4 analog displays, making it suitable for fanless multi-display applications with high-resolution graphics. Unit is equipped with 2.26 GHz Intel Core 2 Duo Mobile processor and up to 8 GB DDR3 RAM. Configurable interfaces include 4x USB, 3x GB LAN, 4x RS232, PS/2 M+K, Line in, MIC In, 7.1 HD Audio, and 1x Firewire. Via PCI Express Mini Card slot, unit can accommodate customer-specific requirements.
---
Original Press Release:

Embedded Box PC with Integrated Graphics Accelerator Empowers Space Saving, Fanless Multi-display Installations



Robust Box PC excels with brilliant graphics performance



Eching, – Today, Kontron has introduced the Kontron CB 753 Dual Head a new member of its flexibly configurable Embedded Box PC family which excels in graphics performance. Thanks to its integrated graphics accelerator, the fanless and particulary robust Embedded Box PC provides connections for two digital or four analog displays and delivers graphics performance beyond the performance of the chip set. It is therefore ideal for designs of fanless multi-display applications with high-resolution graphics found in mobile and stationary digital signage and infotainment applications, POS/POI systems as well as in industrial shopfloor and control room scenarios.



The long-term available Embedded Box PC Kontron CB 753 Dual Head has been conceived especially for applications in which the integrated graphics performance of low-power embedded chipsets does not suffice for controlling several high resolution displays. To serve this purpose, Kontron has integrated a powerful graphics accelerator with a chipset from Matrox or NVIDIA as well as a specifically tailored cooling solution which is an ideal match. Compared to system designs with a fan, the completely sealed and fanless Kontron CB 753 Dual Head provides a smaller footprint while offering an enhanced and maintenance-free operation. This makes an application-ready integrated multi-display solution available to OEM customers which has already been tested and certified for reliable continuous operation in the temperature range from 0 to +50 °C. This saves time otherwise used for purchasing separate components, their integration and testing and enables OEMs to concentrate on their core competence of application development and to reduce their time-to-market.



Like all Kontron Embedded Box PCs in the CB family, the Kontron CB 753 Dual Head stands out in terms of high-reliability and long-term availability. The MTBF (Mean Time Between Failures) of the CE-certified and UL-qualified Embedded Box PC is 40,000 hours. It also facilitates simple integration in a wide spectrum of OEM applications. For flexible integration in diverse application areas, Kontron offers vertical and horizontal mounting and rackmounting options.



The feature set in detail

Kontron's Embedded Box PC CB 753 Dual Head, in a compact aluminum chassis (75 mm x 350 mm x 260 mm), offers strong media playback performance - thanks to its 2.26 GHz Intel Core 2 Duo Mobile processor and up to 8 GB DDR3 RAM. Displays can either be connected via 2x DVI (1920 x 1200px) or 4x VGA (4x 1920 x 1200px, or 2x 2048 x 1536px). Alternatively, there is a version with 2x Display-Port and a maximum resolution of 2560 x 1600 pixels. The wide, industrial-purpose configurable interface range includes 4x USB, 3x GB LAN, 4x RS232, PS/2 M+K, Line in, MIC In, 7.1 HD Audio and 1x Firewire. Via a PCI Express Mini Card slot, the array of interfaces can even be extended to accommodate different customer-specific requirements like W-LAN, GPS, CAN or digital I/Os. For local data storage there is bay for a 2.5" SATA HDD or a shock-resistant SDD as well as a CF socket which is accessible via a detachable lid at the bottom of the chassis.



Availability

The Kontron CB 753 Dual-Head Embedded box PC is available now and supports Linux Embedded, Windows Vista, Windows 7, Windows XP as well as Windows XP Embedded.



For further information please visit the Kontron embedded box PC CB 753 product page.



Further information at the fanless Embedded Box PC products page.



About Kontron

Kontron is a global leader in embedded computing technology. With more than 40% of its employees in research and development, Kontron creates many of the standards that drive the world's embedded computing platforms. Kontron's product longevity, local engineering and support, and value-added services, helps create a sustainable and viable embedded solution for OEMs and system integrators. Kontron works closely with its customers on their embedded application-ready platforms and custom solutions, enabling them to focus on their core competencies. The result is an accelerated time-to-market, reduced total-cost-of-ownership and an improved overall application with leading-edge, highly-reliable embedded technology.



Kontron is listed on the German TecDAX stock exchange under the symbol "KBC". For more information, please visit: http://www.kontron.com/



Media Contacts



EMEA

Norbert Hauser

Kontron

Tel: +49 (8341) 803-0

norbert.hauser@kontron.com



Americas

Richard Pugnier

Kontron

Tel:+1 (858) 623-3006

richard.pugnier@us.kontron.com



All rights reserved. Kontron is a trademark or registered trademark of Kontron AG.

Intel® and Intel® Core® are trademarks of Intel® Corporation in the US and other countries.



All other brand or product names are trademarks or registered trademarks or copyrights by their respective owners and are recognized. All data is for information purposes only and not guaranteed for legal purposes. Subject to change without notice. Information in this press release has been carefully checked and is believed to be accurate; however, no responsibility is assumed for inaccuracies.