Embedded API provides access and control of hardware resources.
Press Release Summary: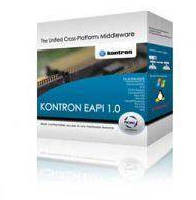 Supporting form factors ranging from AdvancedTCA® to VPX, Kontron Embedded Application Programming Interface 1.0 helps minimize OEM development work and time spent from initial design to cross-platform migrations, including validation and verification. Middleware package is compliant to PICMG®'s EAPI, but extends feature set by adding basic system information, temperature and voltage monitoring, CPU performance, and thermal control. All functions can be called remotely via Internet.
---
Original Press Release:

Kontron Embedded Application Programming Interface



Unified middleware for simplified access and control of hardware resources

Kontron starts the second wave of embedded standardization with its comprehensive middleware package including standard libraries and APIs

Eching, Germany, - Kontron is premiering its new cross-platform middleware, Kontron Embedded Application Programming Interface (Kontron EAPI), at this year's SPS/IPC/DRIVES fair in Nuremberg, Germany. With this launch, Kontron has standardized the access and control of hardware resources for embedded applications. Application developers will benefit from a rich and sophisticated library of API functions for getting information from all new Kontron embedded computing platforms. Kontron EAPI is compliant to the PICMG®'s EAPI but independent of form factors and operating systems and offers an extended feature set. It helps to minimize OEMs' development work and the time spent on initial designs up to cross-platform migrations, including validation and verification. Additionally, Kontron's EAPI enables remote monitoring and control functionalities, resulting in improved service, easier maintenance and a lower total cost of ownership.

The first products to be fitted with the new Kontron EAPI are the Kontron embedded motherboard KTQ45, the Kontron COM Express(TM) Computer-on-Module nanoETXexpress-SP and Kontron's MICROSPACE® MPCX line of industrial PCs. All new platforms to be launched after this announcement will also be supported. No matter what Kontron platform is used in the future, developers will find an identical set of function calls for dedicated tasks. The software interfaces to the hardware can be easily linked to any higher programming language like C++ or Java. This makes software and application development a much simpler job. Moreover, developers can utilize the knowledge that has gone into creating the solution, even when migrating to another Kontron platform. This ensures the best time to market as well as reducing the amount of work needed for validation and verification.

OEMs can even leverage the Kontron EAPI to offer value-adding services to their customers. Some possible value-adds include, but are not limited to, remote hardware monitoring and enhanced servicing plans.

"We want to reduce R&D costs for our customers. With Kontron EAPI they can handle the fast technology changes much easier. Due to standardization the complexity to access I/Os is now dramatically reduced. And this not just for a single board, but across all platforms", explains Dirk Finstel, CTO of Kontron.

Asked about how this launch has a unique point of differentiation for customers, Dirk Finstel explains: "Some standards already exist, of course, such as IPMI, and PICMG®'s EAPI. But these are limited to dedicated form factors and functionalities. With Kontron EAPI we've combined the best features of all major standards, added further enhancements and provide now most easy usability - on all Kontron platforms. We provide a middleware package that unifies the way all Kontron embedded platforms are handled, independent from form factor or OS. This isn't only for one product category, but for our entire product range. By achieving this standardization, we aim to attain a leading position compared to our competitors. We believe that this uniform interface on how platforms should be implemented will win a lot of followers, however. Since the different form factors are handled by different organizations, we think that a company-driven cross-platform approach is the ideal focal point for such a demanding task. But the most compelling reason is that our customers will benefit from it by lowering their R&D costs and optimized time-to-market. We will add further capabilities as soon as they are feasible for scalability and standardization. So Kontron EAPI 1.0 is just the first step in achieving highly convenient system integration."

Kontron EAPI is compliant to the PICMG®'s EAPI as defined in the latest COM Express(TM) specification, COM.0 Rev. 2, but extends its feature set by additional function calls such as basic system information (e.g. CPU, memory, HDD, battery), temperature and voltage monitoring, CPU performance and thermal control. Moreover, Kontron EAPI includes more form factors - from AdvancedTCA® to VPX - and all functions can be called remotely via internet. Developers using this will benefit from the safety of an independently standardized programming interface combined with high convenience and an extended feature set.

The Kontron Global Software Design Center in brief

Through the Kontron Global Software Design Center, Kontron has extended its in-house design services for customer applications. While continuing to offer local software support, the Kontron Global Software Design Center is the company's central service point for handling the increasingly complex software functionalities of customers' embedded computing solutions, thereby helping OEMs to reduce their time to market and improve the quality of applications.

For more information about the Kontron Global Software Design Center, please go to www.kontron.com/about-kontron/global-software-design-center/

About Kontron

Kontron, the global leader of embedded computing technology, designs and manufactures embedded and communications standards-based, rugged COTS and custom solutions for OEMs, systems integrators and application providers in a variety of markets. Kontron engineering and manufacturing facilities, located throughout Europe, North America and Asia-Pacific, work together with streamlined global sales and support services to help customers reduce their time to market and gain a competitive advantage. Kontron's diverse product portfolio includes boards & mezzanines, Computer-on-Modules, HMIs & displays, systems & platforms, and rugged & custom capabilities. Kontron is a Premier member of the Intel® Embedded Alliance and has been a VDC Platinum Vendor for Embedded Computer Boards for five years running. Kontron is listed on the German TecDAX stock exchange under the symbol "KBC." For more information, please visit us at www.kontron.com

More from Electrical Equipment & Systems