Elscint Vibratory Bowl Feeder for Raw Cashews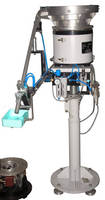 Elscint Automation, the leading vibratory parts feeder manufacturer from India has developed a special vibratory bowl feeder for feeding of raw cashews. The cashews being raw and fresh, there was a lot of variation in the sizes. The sizes varied from 20 mm length to 40 mm length, width from 15 mm to 25 mm and height from 8 mm to 14 mm. Due to this huge variation, there was a possibility of jamming. The orientation required was lengthwise and a speed or feed rate of 60 parts per minute was required.

Elscint designed a special type of tooling which ensured that all these sizes could be accommodated in a single bowl feeder and a speed of 100 parts per minute was achieved. A cast aluminium bowl was used and it was PU coated with Elscinthane PU coating. This increased not only the life of the bowl but also improved the performance drastically. A gravity chute with a sensor in the same was also provided which conveyed the cashews from the bowl feeder to the next operation. Once, the chute was full of cashews, the vibrator used to automatically switch off and switch on again once the chute became part empty. The tooling as well as the chute was made in stainless steel.

More from Electrical Equipment & Systems