Elscint High Speed Vibratory Feeder for Plastic Spouts with Cap Forward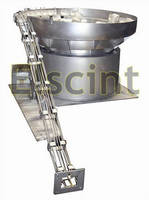 Elscint Automation, the leading vibratory parts feeder manufacturer from India has developed a special bowl for feeding of plastic spouts with the cap being forward.

These spouts are required for packing of pouches. Feeding of spouts with the cap being forward is always considered a challenge due to which very few bowl feeder manufacturers take this up. Additionally in most of the cases, the weight on the top and bottom of the spouts is almost the same. However, Elscint has developed a special bowl tooling which can orient the spouts in the required manner, i.e. with the cap forward and wings on the sides and behind.

Speeds upton 80 to 100 spouts a minute are possible. Either of Model 250, 250 EV or Model 400 can be used, depending upon the size of the spout, the speed required and the loading quantity required in the bowl. Additionally, Elscint can also offer a linear track or gravity chute for further feeding of the spouts upto the machine of the manufacturer.

More from Software