Ellsworth Adhesives Europe Extends its Equipment Range with the Addition of the Kakuhunter SK-350T2 Planetary Mixer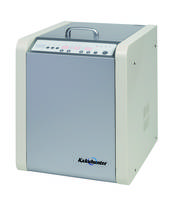 Ellsworth Adhesives, distributor of adhesives, specialty chemicals and dispensing equipment, is pleased to reveal the latest addition to its equipment range – the SK-350T2 Centrifugal Planetary Mixer with mixing and degassing system.
Manufactured in Japan by the Shashin Kagaku Product Company, the SK-350T2 is a Kakuhunter brand product with CE approval. This newly developed centrifugal planetary mixer can degas a wide range of single component materials or simultaneously mix and degas multi component materials, regardless of their viscosity. By providing users with an automated mixing solution that is efficient and cost effective, the SK-350T2 eliminates the hassles and challenges of manual mixing methods.
The SK-350T2 Planetary Mixer is one of two Kakuhunter products currently available from Ellsworth Adhesives. Back in October 2015, the distributor launched its entry model 'The SK-300S' into the European market and it was the positive response to this machine that encouraged Ellsworth Europe's Managing Director, John Henderson to further extend Ellsworth's offering of the Kakuhunter range.
John Henderson comments "Since its launch, The SK-300S has proven to be a popular product in the Ellsworth portfolio. Our customers are not only impressed by the results it produces, but also its ease of use and return on investment. Now we can offer a choice between the entry level SK-300S model or the more sophisticated SK-350T2 model for larger scale production."
Unlike the SK-300S with just one cup, the SK-350T2 has the capacity for two cups, meaning it is possible to run a dual mixing cycle. The enhanced SK-350T2 model includes more advanced features, with 90 more programmable channels than its predecessor, as well as the automatic setting of 'counter weight' adjustment to avoid the possibility of human error.
The SK-350T2 is compatible with all adopters in the Kakuhunter range, including the cartridge adopter, which allows the user to dispense the material straight from the cartridge rather than having to use an intermediate (transfer cup). A cold adopter cup is also available, which can be frozen to lower the material's temperature and reduce the chance of premature curing or exotherm.
Ellsworth Adhesives is the exclusive European supplier of Kakuhunter Planetary Mixers. To enquire about the SK-350T2 Machine or any other mixing equipment, please email: infoeurope@ellsworth.com.
Visit the Ellsworth Adhesives Europe website to learn more: www.ellsworthadhesives.co.uk/kakuhunter
About Ellsworth Adhesives Europe
Ellsworth Adhesives Europe is the regional arm of American owned global entity, The Ellsworth Corporation. Across Europe, Ellsworth Adhesives has branches in France, Spain, Germany, Scandinavia, Poland and the United Kingdom, where our headquarters is located.
As a distributor of adhesives, specialty chemicals and adhesive dispensing equipment, the Ellsworth Adhesives product portfolio is huge and encompasses all the industry's leading brands including Loctite, Dow Corning, Dymax, Lord and many more.
From epoxy adhesives and potting systems, to conformal coatings and surface preparation products, Ellsworth Adhesives has a material to suit every application. Alongside adhesive materials, we also supply a wide range of manual and automated adhesive dispensing equipment including tips, cartridges and static mixers as well as dispensers and dispensing robots.
At Ellsworth Adhesives Europe we recognise that our customers have different needs. We cater to customers who already know the exact products they want, and will supply them with a quick and efficient turnaround, yet we also cater for customers requiring a more technical, in depth service.
If you have a bonding application and are unsure of the products and equipment required, our expert sales team can help! With our excellent technical knowledge, we can analyse your end product and process requirements and recommend the material and dispensing system that will work best.
Contact Us: www.ellsworthadhesives.co.uk
Media Contact
Michelle Deatcher
Marketing Manager
+44 (0) 1355 577 223