Ellison Doors Ideal for 1217 Main Street's Innovative Architecture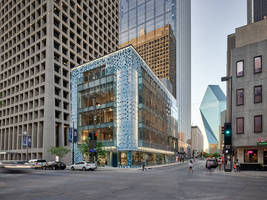 Oversized Teal Custom Balanced Door Makes a Statement on the Street
FALCONER, NY… Ellison Bronze, manufacturer of premier custom balanced doors for commercial entrances around the world, recently supplied one formed-up aluminum door, painted teal, plus additional entrance doors for the renovation of 1217 Main Street—a structure in downtown Dallas that is garnering attention within the architectural community.
Built in 1958, 1217 Main Street in Dallas, TX is a mid-century modern commercial building that originally served as a bank and office spaces. In 2017, construction began on 5G Studio Collaborative's latest revamp of the 28,000 sq. ft. site, which included the addition of a fifth story, an innovative rainscreen facade featuring ceramic tiles in varying shades of blue, and an Ellison Bronze custom balanced door designed to complement the exterior "mosaic" of ceramic tiles.
The 4' x 10' teal aluminum Ellison balanced door is located at the entrance of Commissary on the ground floor—a modern go-to eatery in downtown Dallas.
"We were looking for a large door to make an impact at the entrance of Commissary, but we initially had an off-center pivot door in mind," says Josh Allen, Principal, 5G Studio Collaborative. "We ended up choosing Ellison because their solid, durable hardware could handle such an oversized door."
Ellison supplied two additional single balanced doors for 1217 Main Street that give access to offices spaces located on floors two through five. These narrow stile, tempered glass doors are factory-glazed with ¾-in. ultra-clear tempered glass. All three doors, including the Commissary entrance, feature a stainless steel sidelight.
The basement and ground floor of 1217 Main Street are occupied by a butchery and the Commissary restaurant, the second floor is an interior design firm, and floors three through five are occupied by the architects themselves, offices home to 5G Studio Collaborative.
The inventive tile facade and rainscreen attachment system were designed and created by 5G Studio in collaboration with Cuban-American artist, Jorge Pardo, famous for his fusion of art, sculpture, and architecture. 5G worked alongside tile manufacturer Cerámica Suro to create a tile with a low water-absorption rate that would not flake or crack through Dallas' yearly weather cycles.
Like the tile facade, the entrances are designed to last too, because Ellison doors and frames are formed and welded using durable sheet materials that give them a rigid, unitized structure. The balanced hardware featured on all Ellison doors allows them to outlast standard entrance systems and successfully supports the heavy and durable materials used to construct the doors. They are also much easier to operate, even on the windiest days, which is especially beneficial in areas of steady foot traffic.
"Ellison was great to work with," adds Allen. "A key factor in our decision was that Ellison gave us the ability to customize components in order to fulfill the project's design requirements."
1217 Main Street was completed in December 2017. In addition to Ellison Bronze, the project team included architect 5G Studio Collaborative; structural engineer Armstrong-Douglass; tile manufacturer Cerámica Suro; facade installers TST Construction Services and Ramon Franklin; facade consultants Studio NYL; and artist Jorge Pardo.
About Ellison: Ellison Bronze, Inc., located in Falconer, NY, invented the balanced door in 1927. Today, Ellison leads the industry by providing custom marquee doors to the world's most famous addresses. Made with the highest quality materials and unparalleled craftsmanship, Ellison doors are the standard to which all other commercial entry doors are compared the world over. Ellison also provides superior customer service by maintaining every record and drawing it has produced, and offers replacement balanced hardware for every door it has ever made. For more information, visit www.ellisonbronze.com.
Contact: Jake Michalski, LarsonO'Brien
Phone: 412-831-1959 ext. 117 E-mail: jake.michalski@larsonobrien.com
More from Electronic Components & Devices