Elix Advantage System: Infinite Water Purification, Intelligent Use of Power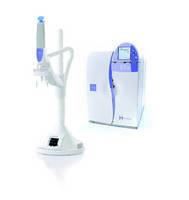 Media Info - While many of today's laboratory water systems provide pure water, not all of them are capable of delivering the same water quality consistently. In fact, water quality from a number of these systems can vary greatly during the lifetime of the purification media used. This is because many systems rely on chemically regenerated resin beds. As these beds are exhausted, water quality deteriorates.
In contrast, Millipore's Elix Advantage water purification system incorporates electrodeionization (along with tap water pretreatment and advanced reverse osmosis), which enables users to benefit from consistent, high purity water delivery-with no drop in quality. The key to this consistency is the Elix module that lies at the heart of every Elix system.

The Elix module is the stage for the electrodeionization process: deionization using ion-selective membranes and ion-exchange resin that is permanently regenerated by a low electric current. Users benefit from high resistivity water of consistent quality, as well as optimized operating and maintenance costs. In addition, there is no need to exchange deionization (DI) resin cartridges or to regenerate resins using hazardous chemicals.

For Claire de Boisséson, manager of the AFSSA* DNA sequencing lab in Brittany, France, the bacteriological quality of the water she uses is critical: "With the Elix Advantage system, we're sure to have the constant, high water quality we require-and we also enjoy low running costs."

Ergonomic E-POD® pure water dispensers at the point of use conveniently provide Elix Advantage system users with complete control over pressurized pure water with low bacteria levels. Users can choose manual or automatic dispensing, leaving them free to focus on their work: the system shuts off automatically once the requested volume had been dispensed.

Monika Landeta, lab technician working on DNA-chip hybridization at Progenika Biopharma, S.A. (Vizcaya, Spain), considers the E-POD dispenser one of the major benefits of the Elix Advantage system: "What we like most is the ability to place the POD unit in another room. It's really very convenient. Plus, we can choose the volume that we need, program the POD and leave the room. It's an advantage over the older systems we had previously."

To read about the similar experiences of other Elix Advantage system users, or for more information, just visit our web site: www.millipore.com/labwater

* Agence Française de Sécurité Sanitaire des Aliments, the French equivalent of the U.S. Food and Drug Administration

www.millipore.com/elixadvantagets

About Millipore:

Millipore (NYSE: MIL) is a Life Science leader providing cutting-edge technologies, tools, and services for bioscience research and biopharmaceutical manufacturing. As a strategic partner, we collaborate with customers to confront the world's challenging human health issues. From research to development to production, our scientific expertise and innovative solutions help customers tackle their most complex problems and achieve their goals. Millipore Corporation is an S&P 500 company with more than 6,100 employees worldwide. For more information, please contact Millipore Tech Service at 1-800-548-7853 or 951-676-8080 or visit www.millipore.com.

ADVANCING LIFE SCIENCE TOGETHER®

Research. Development. Production.

Millipore Media Contact:

Greg Hoff

Media Relations

Bioscience Division

978-762-5170

greg_hoff@millipore.com

Millipore, Elix, E-POD, and ADVANCING LIFE SCIENCE TOGETHER are registered trademarks of Millipore Corporation. The M Mark is a trademark of Millipore Corporation.

More from Thermal & Heating Equipment