Eliminate Tedious Sample Preparation with Laboratory Automation from Tecan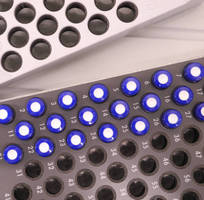 Tecan offers a wide range of laboratory automation solutions for mass spectrometry (MS) sample preparation, ensuring there is a system to meet your workflow and throughput needs. From solid phase extraction and liquid-liquid extraction to protein precipitation and straightforward 'dilute and shoot' methods, Tecan provides seamless automation of routine sample preparation applications, helping to alleviate major bottlenecks for many laboratories.



Recent advances in MS instrumentation have led to an increasing number of laboratories choosing this technology for a wide range of applications. However, sample preparation techniques have not enjoyed the same rate of development, leading to processing bottlenecks and reducing overall productivity. Automation of routine sample preparation can alleviate these problems, reducing hands­-on time and increasing throughput. With a broad base of MS customers in drug discovery, clinical, toxicological, food and environmental laboratories, Tecan is perfectly placed to deliver innovative automated sample preparation solutions for virtually any application.



Tecan offers an extensive range of systems and modules to match your laboratory workflow needs; from straightforward 'pipette and shake' sample extraction using the recently launched AC Extraction Plate™* to walkaway automation with a modular Freedom EVO® workstation. Dr Stefan Traeger, Head of Tecan's Life Sciences Business, commented: "We are committed to helping our MS customers maximize their laboratory output. Advanced process security and sample tracking options, together with user-oriented features such as the TouchTools™ graphical interface, are making safe and reliable automated sample preparation easier than ever before."



To find out more about Tecan's sample preparation solutions for mass spectrometry, visit www.tecan.com/lcms.



*For research use only – not for clinical diagnostic applications

                                                                                                                         

For more information please contact:

Tecan Trading AG

Cornelia Kegele / Antonietta Allocca

Seestrasse 103

CH-8708 Männedorf

Tel  +41 (0)44 922 81 11

Fax +41 (0)44 922 81 12

info@tecan.com www.tecan.com



About Tecan

Tecan (www.tecan.com) is a leading global provider of laboratory instruments and solutions in biopharmaceuticals, forensics and clinical diagnostics. The company specializes in the development, production and distribution of automated workflow solutions for laboratories in the life sciences sector. Its clients include pharmaceutical and biotechnology companies, university research departments, and forensic and diagnostic laboratories. As an original equipment manufacturer (OEM), Tecan is also a leader in developing and manufacturing OEM instruments and components that are then distributed by partner companies. Founded in Switzerland in 1980, the company has manufacturing, research and development sites in both Europe and North America and maintains a sales and service network in 52 countries. In 2013, Tecan generated sales of CHF 388 million (USD 419 million; EUR 316 million). Registered shares of Tecan Group are traded on the SIX Swiss Exchange (TECN; ISIN CH0012100191).





More from Software