Elgin's Next Level 'Smart Panel' Technology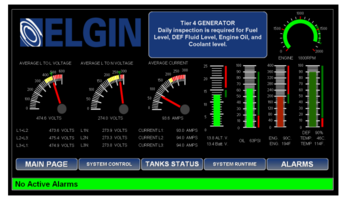 Houston, Texas (USA) – June 28, 2022
Elgin pioneered the packaged mud recycling systems decades ago. Operators quickly came to know these systems as durable, long-lasting, with high-quality sophistication and maximum performance.
Since the introduction of Elgin's 'Smart Panel' technology, operators have seen substantial improvement in their solids control operation via remote monitoring and system automation features. This automated solution not only provides the ease of equipment control, but also maximizes the life of the mud system by protecting all the major equipment during operation. No competing system in the market provides for this level of system automation.
New for 2022, Elgin has continued to develop their innovative control panel technology by integrating active tank level monitoring and real-time EPA Tier-4 generator monitoring to systems featuring 'Smart Panel' technology.
Active Tank Level Monitoring System
Utilizing onboard level sensors, operators can quickly see the fluid levels inside partitioned tanks via an exterior 'LED Level Gauge' or from within Elgin's proprietary software platform accessible by a smart phone, tablet, or laptop. With the ability to monitor active tank levels, operators can prevent tank overflowing, pump cavitation, and continuous fluid recycling conditions. Tank fluid levels are maintained in automated 'cruise-control' mode with auto on/off pump controls. In manual mode, operators can monitor tank levels to activate/deactivate pump operation for efficient solids control performance.
Real-Time Generator Data
Since the transition to EPA Tier-4 generators, monitoring Fuel Level, DEF Fluid Level, Engine Oil, and Coolant level has become more important than ever to prevent system downtime. As such, Elgin has integrated real-time generator data into the 'Smart Panel' software platform. Operators can now monitor, via smart phone, tablet, or laptop, genset operation included with the Elgin turn-key fluid recycling system. Elgin's is the very first company who can provide this for Tier 4F generators in a packaged system in our industry.
Contact Elgin today and learn about X-Series Turn-Key Fluid Recycling Systems equipped with smart panel automation to maximize your operations.
More from Architectural & Civil Engineering Products